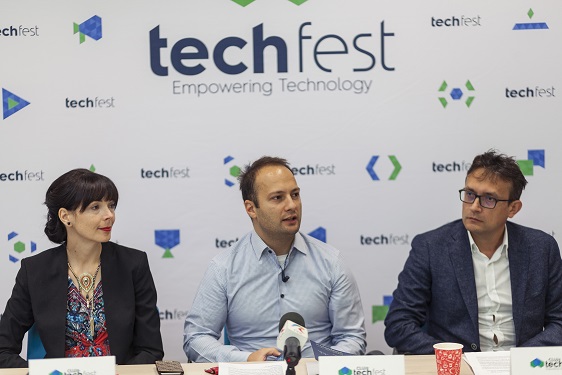 ---
Twenty teams of creative entrepreneurs, research departments and SMEs will pitch their businesses and ideas to the investors, media and the community, during Transylvania Demo Day. The event will take place on November 20th as part of the TechFest Cluj, the biggest Transylvanian festival dedicated to technology that aims to promote investments in innovative technology startups in the region.
Each team would be given 360 seconds to present their startup and the prototype or demo of the product in front of the audience of entrepreneurs, investors, mentors, business angels and potential customers. Among the members of the panel of investors and mentors are: Bogdan Herea, business angel and CEO PITECH + PLUS, Erik Barna, business angel and CEO Life is Hard, Doron Dorovat – Israeli Investor and a representative of BRD Groupe Société Générale fund investment partner – Gapminders, as well as a representative of Banca Transilvania financial partners, the investment fund partner – MorphoSys Capital.
The most compelling presentations, in addition to matchmaking with investors, will be rewarded with multiple awards: 10.000 euros, consisting in service and commercial support (Tech2Market) through a global network of partners of Entrepreneurship Center Startup Transylvania, office space in TETAPOLIS and ClujHUB , costs and assistance in international delegations and other prizes offered by Vector Watch, Microsoft Azure and IBM Bluemix. Moreover, all 20 teams selected will enter the race and have a chance to be rewarded with an entrepreneurship scholarship at ASIA School of Business – MIT Sloan Kuala Lumpur.
"One of the basic conditions that we take into account when we choose teams is related to the validity of the business model and the innovation they bring in their respective industries. We encourage entrepreneurs to be part of the event because their ideas will get a great exposure in front of mentors and top business angels"said Cristian Dascalu, founder of StartUp Center Transylvania and TechFest organizer.