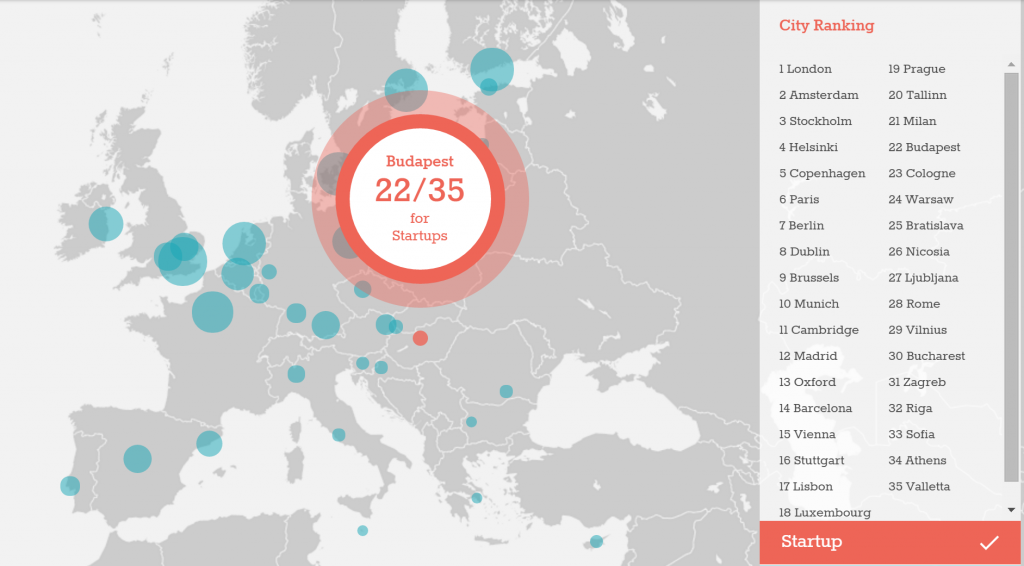 ---
The European Digital City Index (EDCi) aims at displaying the level of support performed by various cities in Europe regarding digital entrepreneurship. 
The index covers all the European capitals, but also seven non-capitals due to their dynamic and consistent activity. EDCi focuses 10 indicators:

business environment

digital infrastructure

skills

entrepreneurial culture

knowledge spillovers

lifestyle

market

mentoring & managerial assistance

non-digital infrastructure.
Prague seems to be the leader in the hub index, its spot on 19/35. Skills & lifestyle level indicate that this is the ideal bootstrapping destination for startups. It's also supposed that the proximity to well-rooted hubs as Berlin and London might have inspired & boosted its appeal towards the funding & internationalization.
Budapest is ranked 22/35 when it comes to startups. The capital consolidates its position in the startup scene thanks to its emerging ecosystem of coworking spaces, incubators & accelerators. The Hungarian pole is also well positioned in most aspects of entrepreneurship: relatively accessible capital, friendly business environment and a vivid entrepreneurship culture. To top it off, it earns 5th place in the index at the cost of living and it's above average when it comes to Internet speed and travel links.
Closely following, Poland's capital is ranked 24/35 in the EDCi rank. Warsaw boasts with the strongest entrepreneurial culture in CEE to also benefit from a bold digital infrastructure and easy access to capital. The consistent presence of knowledge spillovers and openness to mentoring and managerial assistance secures the present and future of Polish startups & scale-ups. Ifinity, a beacon producer and Showroom, an ecommerce fashion platform are mentioned in the study as notable startups.
Owned by Nesta as a part of the  European Digital Forum, EDCi targets startups and scale-ups in the context of the local ecosystems they activate in, with the purpose of offering valuable insights to help them plan & attract resources in specific areas of their business. More specifically, the Index points out highly active hubs & their practices to set benchmarks within the European hub scene, to provide a zoom-in zoom-out view on what matters to startups.
It's evident that the CEE has a potential of changing the startup scenery in Europe.  You can find out more about the EDCi study here. 
In which of the CEE's hubs would you build your startup?