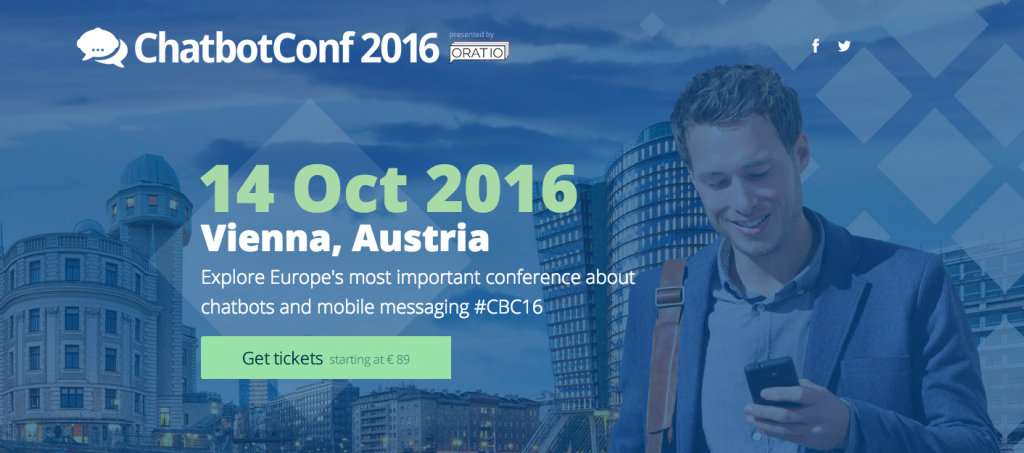 ---
For anyone who is at least slightly interested in chatbots, Vienna is definitely a "must be" place on October 14th. With around 350 participants planned and lots of awesome speakers in its' still unfinished, but already impressive lineup, the organisers of Chatbot Conference 2016 aim to claim Vienna as the top cherry for the chatbot industry cake. So let's see, who is invited.
The one-day event will be divided into talks and workshops / chatbot presentations. On the main stage Christoph Auer-Welsbach from IBM Watson will be addressing the issues and challenges talking with the technology, Mikhail Larionov, theTechnical Lead in Facebook Messenger Team will talk about " The Today and Tomorrow of Messenger Platform" and many more. The market leaders and shapers from Slack, Viber, Line and many other companies will also be participating in the event (check the website for the full name dropping experience).
Meanwhile in the Master Class the cool kids, who already built their chatbots will share the knowledge collected and lessons learned, f.e. Matty Mariansky will talk about Meekan, the scheduling assistant and how to design the conversation. Plus you will be able to try 10 chatbots presented by participants of Lemmings I/O, the Messenger Platform Incubator.
"The ChatbotConf is a great example of how within just a few months Vienna became one of the leading hubs in artificial intelligence as well as chatbot user experience and distribution strategies. Now it is time to go all in" explains Thomas Schranz, one of the organisers of Lemmings program.
So basically, make sure you can be in two places at the same time.
The organiser of the event is Austrian startup oratio, which we already mentioned in previous article, when it was selected to join Seedcamp earlier this year. Oratio is a platform, which allows businesses to extend their customer support to mobile messengers currently working via WhatsApp, Facebook Messenger,  Telegram Messenger and Kik Messenger.
When we asked the organisers what is the main goal of the event, Berhand Hauser, the initiator of the conference and CEO of oratio said " With ChatbotConf 2016 we bring together industry experts, thought leaders as well as developers, startups and established companies for a full day conference in Vienna on 14 Oct. The international community of chatbot enthusiasts has been growing rapidly and especially with Facebook's announcement in April to support chatbots on their Messenger platform, a small revolution has been kicked-off! This conference is oratio's take on making Vienna an international hotspot – or BotSpot as we call it – in the chatbots movement."
So, save the date and meet you on the 14th of October at #CBC16 !