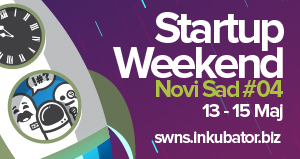 ---
With new spring in Novi Sad, comes this year's Startup Weekend. The fourth edition of Startup Weekend Novi Sad is scheduled for 13to 15 of May. The venue of the SWNS 04 will be the main building of University of Novi Sad. Organizers of the event are Business Incubator Novi Sad, iDEAlab, and nStarter.
As you probably already know, Startup Weekend is an event dedicated to innovators, adventurers, and entrepreneurial minds, who want to cross the path from idea to confident performance on the market. It may not seem easy, but people will definitely find out what they can do in just 54h in a place where they are dedicated to their ideas only. And they will see that persistence and hard work always pays off!
The first Startup Weekend in Novi Sad was organized in October 2013. Team Pick'n'Park, led by Nikola Obradovic, took the first place. They had the idea to created an app which reserves a parking place in the major cities. Even if the app is not alive anymore, Nikola continued to support Startup Weekend, and he became a mentor on the third SWNS.
Another SWNS was held in March 2015. Application Bill Hunter has taken precedence over other ideas. The teams had the idea to create an app that scans bills, which have been received, and sends them to accountants immediately.
Last November, SWNS03 was organized. The team that took first place was named Mobile Wars. Girls in the team had an idea for an application that restricts the usage of mobile phones and tablets by children while parents are away.
Although there was strong competition, all of the previous winners, as well as competitors, agree that the great atmosphere contributed to their productivity and that if they had an opportunity they would sign up for this event again.
Startup Weekend will be organized in Novi Sad for the forth time. Hard work, lots of LOLs, fun, socializing and great atmosphere are guaranteed. The basis of this event is networking – meeting new people, communicating and exchanging opinions is what makes Startup Weekend so special. And what makes Startup Weekend Novi Sad special are people from local startup ecosystem who make this unforgettable experience for all entrepreneurial rookies.
If you wish to find out more about Startup Weekend Novi Sad, you can do that on SWNS official web page.