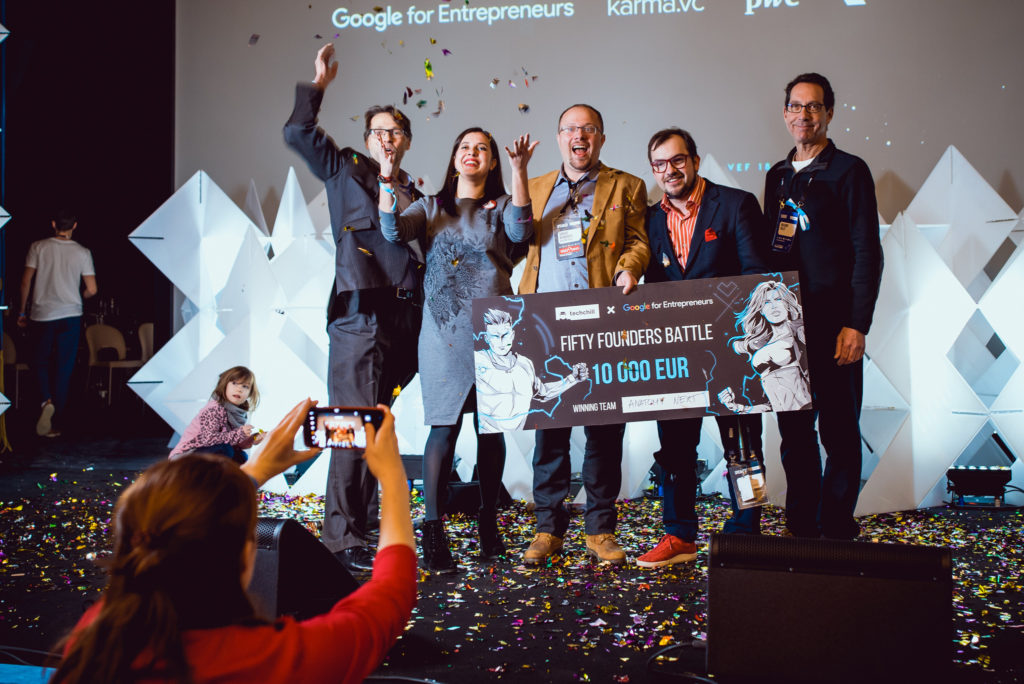 Events
---
TechChill 2019 is scheduled to take place in Riga, Latvia on February 21-22. Preparations are well underway for the well-regarded startup event and with that, TechChill has just announced its evaluation jury for the Fifty Founders startup competition.
Fifty Founders is a competitive element of the overall event which pits fifty startups against each other for the chance to walk away with €10,000 in prize money – together with the opportunity to compete in the Startup World Cup in Silicon Valley in May 2019. Should the successful regional startup win the ultimate event in San Francisco, it will receive prize money of $1,000,000 as an investment in exchange for a portion of equity in the company.
The fifty participants are chosen from the areas of fintech, deep-tech, software as a service (SaaS), hardware and internet of things (IoT), with 10 startups chosen from each vertical. In the Baltic states, it appears that people place much more emphasis on fintech and perceive it as the key driver towards economic growth. 70% of investments are made in fintech solutions as a result. The Baltic region produces a high number of graduates in science, maths, computing, engineering and manufacturing. As a consequence, the deep-tech vertical is well positioned to thrive and create opportunities in the region.
The organisers of TechChill 2019 believe that startups have the potential to change lives, particularly so when the solutions they seek to implement attempt to solve global problems. As a consequence, the organisers have set this belief as the theme for the event generally.
"We see technology as an opportunity for solving the big challenges previous generations couldn't. There are already great startups working in health tech, edtech, and sustainability solutions and as a way to encourage more of these businesses to be started in the Baltics, we want to showcase the best ones," explained Kristine Kornilova, CEO of TechChill.
A jury of investors and representatives from the startup ecosystem will assess the merits and suitability of the applicants. Those whom they deem worthy of being amongst the 50 most promising startups will grace the TechChill stage.
The jury was recently announced and includes Ton van 't Noordende, the Founding Partner & CEO at 01 Ventures, Donatas Keras, Co-founder and Partner at Practica Capital, Andris Berzins, Managing Partner at Change Ventures, Egita Polanska, Head of the Program and Partnerships at Startup Wise Guys, Juha Ruohonen. Additionally, Founding partner at Superhero Capital, Marili Merendi, VC Associate at Karma Ventures, Chris Brown, Manager of the Accelerator program at 500 Startups and Olga Barreto-Goncalves, Chief Start-up Instigator at Magnetic Latvia Startup make up the jury panel.
One member of the jury panel – Egita Polanska of Startup Wise Guys commented on the event:
"Happening at the centre of Baltics, TechChill is such a good stage opportunity for startups that are looking for investors or other connections in the region. As for us – Startup Wise Guys are always on the search for startup superstars to invest in, and Fifty Founders battle allows us to see them in one place in one day, saving a lot of time."
The final battle on stage at TechChill 2019 will involve the semi-finals and finals of the competition. The startups will be evaluated by a final jury – with a different jury chosen for each vertical. These juries will be selected from participating investors and experts with relevant experience in that particular field. As usual, TechChill will offer stage time to all 50 teams, to give all startups the opportunity to be heard and pitch their idea in front of an audience of hundreds of potential investors, partners, employees, and media.
Don't miss out on your opportunity to present your concept to the jury and audience of TechChill 2019. All early-stage startups who have secured no more than €100,000 in current funding and with a valid TechChill 2019 Startup pass are welcome to apply, with no country restrictions.
Apply here until December 14: www.techchill.co/fifty-founders-2019/