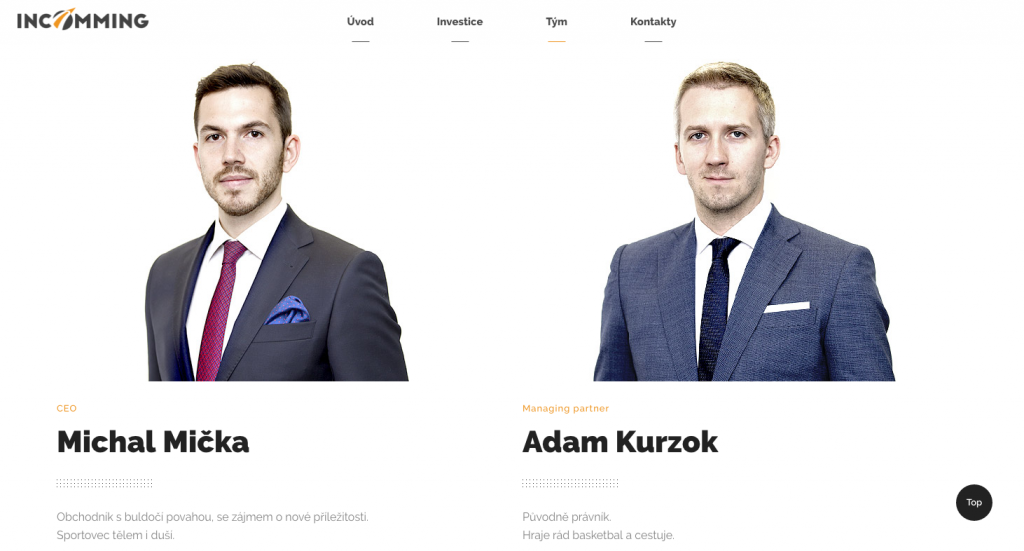 ---
The startup ecosystem of Czech Republic is gaining the hype recently. The latest breaking news is that the launch of a new investment vehicle backed by some of the most successful Czech entrepreneurs and venture capitalists, and this week, according to CzechCrunch, it has made its first investment.
The venture capital fund mentioned is Incomming Ventures (sic), founded by Michal Micka (partner of investment company DRFG)  along with Adam Kurzokem, who years ago founded and sold Lunchtime.cz platform, which was subsequently bought by Indian giant Zomato for more than 60 million. Incomming Ventures shall focus on the seed and later stage investments, without officially announced yet geographical or industry focus.
Their name seems to be misspelled since Incomming is a common mistake done when writing Incoming. And yes, we checked the online registration records of the company. Also, even though the investment vehicle launched in April according to the LinkedIn profile of one of the founders, their  webpage does not show up in any searches and they don't have a social media presence yet.
Leaving these "branding" issues aside, it turns out that the fund is not going to linger with investments, announcing this week an investment into German startup company CARZADA. Founded and run by born in Bohemia and now living in Germany, Tomas Vagner, formerly entrepreneur in residence at Rocket Internet, the startup aims to change the way cars are bought. Instead of going around the physical marketplaces, the car is bought online and checked by certified auto mechanic, arriving at your doorstep.
"The entry into the segment of cars in e-commerce is the idea I had for a long time. I believe that there will be times when cars will primarily be sold and bought over the Internet. Tomas and other investors convinced me that this is a bet on the right horse. " – says Michal Micka for CzechCrunch.
Incomming Ventures will most probably give the larger piece of the funding round, joined by other individual angel investors, including Peter Kasy, who stood with his brother Martin Kaso at the birth of online commerce Kasa.cz.
[easy-tweet tweet="New #VC Fund Appears In #CzechRepublic And Makes Its First #Investment" user="150sec" hashtags="CEEmakers" url="http://goo.gl/Pdowmc"]
The exact amount of the investment into CARZADA is yet unknown, however, CzechCrunch estimates it to be worth hundreds of thousands euro.