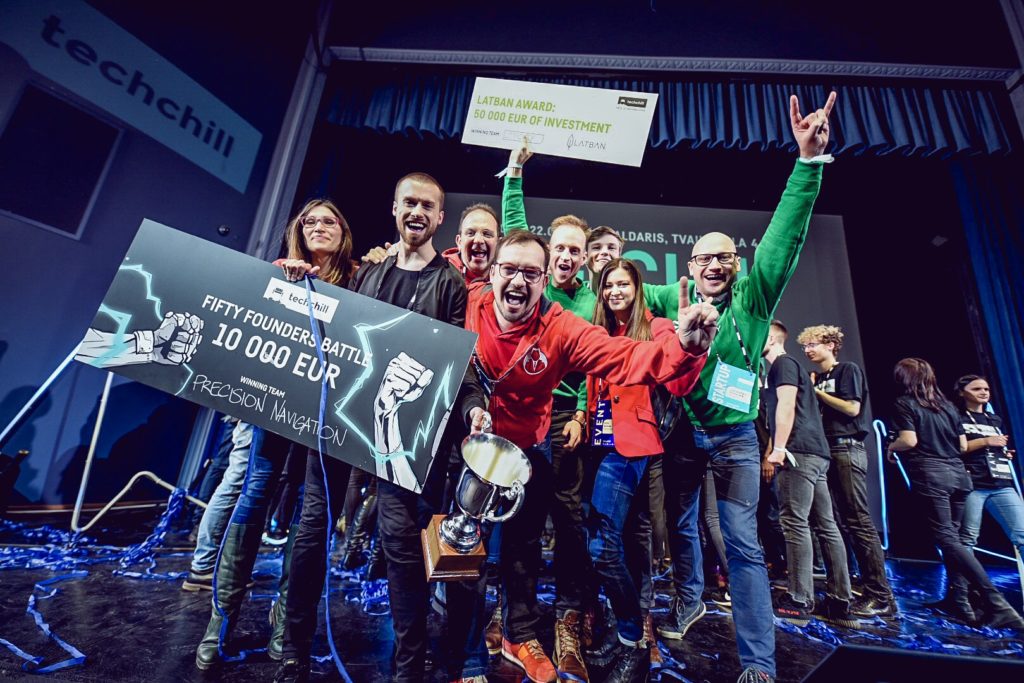 News
---
Competing against almost 200 applicants from 35 countries, the winners of TechChill Fifty Founders battle are Precision Navigation Systems from Estonia, followed by SaaS startups ZITICITY (Lithuania) and Kipwise (Estonia).
Two days of intense startup battle have come to an end: Precision Navigation Systems, an Estonian GPS navigation startup from the deep-tech category will go home with the €10.000 main price of this year's TechChill conference in Riga. In addition to the grant, the team has been awarded a fast track to the Silicon Vikings Startup World Cup Finals in San Francisco on May 17th, 2019 and a pass to the Seedstars Global Summit on April 5th, 2019 in Lausanne.
"It was a close contest between two excellent candidates for the final jury – Precision Navigation Systems and ZITICITY", said Andris K. Bērziņš, the co-Founder of TechChill Foundation and the Managing Partner at Change Ventures.
ZITICITY, a Software-as-a-Service (SaaS) startup for fast logistics and deliveries, came second in the end. The Lithuanian startup and won a 'soft' commitment from a syndicate of 22 members of Latvian Business Angel Network LatBAN.
Equally from the SaaS category came runner-up Kipwise, who will be invited to Founders Day and The Next Web (TNW) conference, both taking place this May 8th-10th in Amsterdam. The Estonian startup convinced the TNW and Adyen with a tool for knowledge management in teams that integrates into Slack.
Latvia's No.1 startup event, more international than ever
Last week's TechChill conference and startup competition marked the 8th edition of one of the region's leading events. Previous winners included Edurio, Spray Printer, Nordigen and Anatomy Next, and successful exits such as Infogr.am.TechChill has firmly established itself in the Nordic-Baltic region, but applicants and visitors are increasingly global. Most of the 194 applicants came from the Baltic-Nordic region with Latvia taking the lead, followed by Estonia, Lithuania, and Finland. However, since last year, the countries represented in the startup battle tripled from 11 to 35, stretching out as far as Nigeria, Lebanon and Argentina.
TechChill's jury equally included regional experts as well as global connectors. It included Marili Merendi from Karma Ventures, Andris K.Berzins from Change Ventures, Donatas Keras from Practica Capital, Indrikis Liepa from Cobalt, Chris Brown from 500 Startups, Alex Karevoll from TechStars, Raph Crouan from Startupbootcamp IoT, Guntars Nemiro from Funderbeam Syndicate, Ansis Spridzans from Funderbeam Syndicate and Sebastian Toupy from The Next Web.
While much as kept in the tradition of last the previous years, the startup competition took a different approach this year when narrowing down to dive verticals considered key to the Baltic-Nordic and CEE region. Semifinals were held in each category Fintech, SaaS, Hardware & IOT, Impact, and Deep Tech.
The team behind this year's TechChill conference announced that it intends to continue to bring international startup buzz to Latvia's capital. Next year's TechChill conference will take place from February 20-21, 2020.