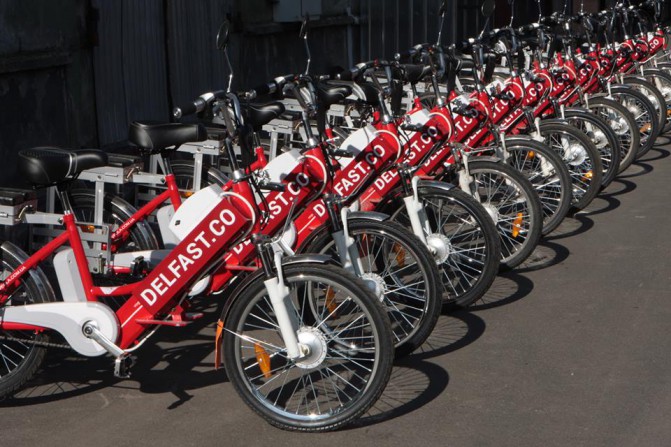 ---
The life in modern European capitals is busy. One of the fastest growing segments in the industry of city mobility has been the delivery. Normal delivery services of goods are not able to satisfy time-constrained schedules, while the diversity of things that need to get delivered grows the whole time. Another problem are traffic jams, and any transportation vehicles which aren't flexible may not be considered reliable in certain situations. Uber has been trying to tackle the problem with its UberRUSH service, taking on another delivery giant Postmates. In CEE region and Western Europe, the market remains very much undisrupted however.
DelFast is a Ukrainian startup with an ambition to tackle the problem locally. It's a service of an express delivery on ecological electrical bikes, which takes no more than 60 minutes and has a fixed affordable price. The project started in 2014, and has been aimed towards the delivery of those goods from e-commerce services which are urgent. Daily the service has been processing from 500 to 1000 deliveries in Kiev, Ukraine, and also Warsaw, Poland, with the help of the fleet of 65 bikes. Charged over the nighttime, the bikes are ready to operate the whole day, and thus provide most eco-friendly and punctual way of the delivery.
"The delivery must be seamless for the customer. Clients do not like when they are called multiple times from the delivery service, when the currier doesn't have rest, or when he or she cannot find the correct address. The client is not supposed to solve all the problems, he is only entitled to receive the package, and as fast as possible" – says the co-founder of DelFast Daniil Tonkopii. 
The first city that DelFast expanded to after Kiev was Warsaw. According to the founders, that was a logical and strategic decision, providing a perfect playground for business model validation on the European market.
DelFast won the competition Startup.ua and first received $40k investment, after which followed a larger investment of $250,000 by Imperious Group. The strategy now is to validate and improve the operational process of the company, and then expand to the largest cities in Europe. The negotiations have already been on-going.