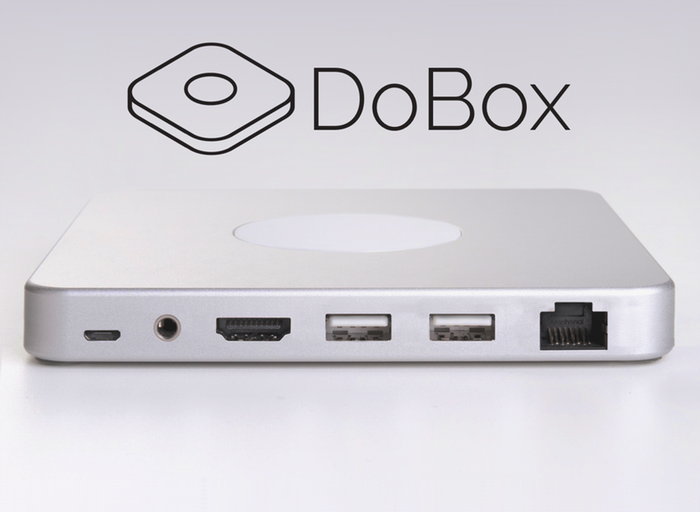 ---
A London-based Hungarian startup DoBox got in the top 1% Kickstarter projects with 100 000 € funding pledged. Mate Molnár, the founder of DoBox, found out that there is no gadget that suited most urgent daily needs of an Apple user.
It may be safely assumed that all Apple users struggle with more than one of the following problems:
– can't easily connect older, non-Apple, non-Bluetooth loudspeakers, printers, keyboards, projectors, etc.,
– everything needs a separate adapter, but only one cable can be plugged in at one time,
– connecting a cable means loosing the advantage of mobility,
– don't feel secure sharing private files on a public Wi-Fi,
– can't attach a flashdrive or an external harddrive to some Apple devices,
– can't share, edit and backup files with others without an internet connection
DoBox is trying to solve all those problems at once and it seems they have made it! Their project got successfully funded on the 25th of April 2016 with £60,000 and got over £9,000 more in next 5 days till the end of campaign.
With DoBox you can now connect to more external devices like never before. You don't need a laptop for serious work anymore, DoBox turns your iPad or iPhone into a MacBook Pro. The DoBox has multiple ports to connect an internet cable, flashdrives, hard drives, keyboard, printers, TVs, projectors, monitors or speakers, and use them wirelessly.
Just take a look on their promotional KickStarter video to check how cool is the idea.

"After the first prototype, we are in development phase of the final product and looking for
manufacturing partners" – said Mate CEO @DoBox – "We see this campaign as successful validation where we need to continue to listen to our customers as the product is developing."
You can backup all your photos, videos and documents, and share them with others wirelessly and securely offline. DoBox has also an internal storage and micro SD memory card reader.
You may play your favorite music on any speaker, and stream videos to any display or projector. DoBox supports audio and video streaming from your device. It can be used as a portable media center through HDMI. Access and share files from its internal storage using your iPhone or iPad as remote controller.
You can take it anywhere with you and even charge your phone or tablet. It comes with a Built-in Lithium Ion Battery to charge your devices from USB. You can also create a secure Wi-Fi connection from cable internet access or public hotspots and you can use DoBox as a wireless router, as well.
[easy-tweet tweet="#Hungarian #startup @thisisdobox solves all problems of #Apple users with 1 device" user="150sec" url="http://goo.gl/ldYQZi"]
Thanks to the successful Kickstarter campaign, now it can be taken for granted that the prototype will become a real product on the market of Apple accessories.