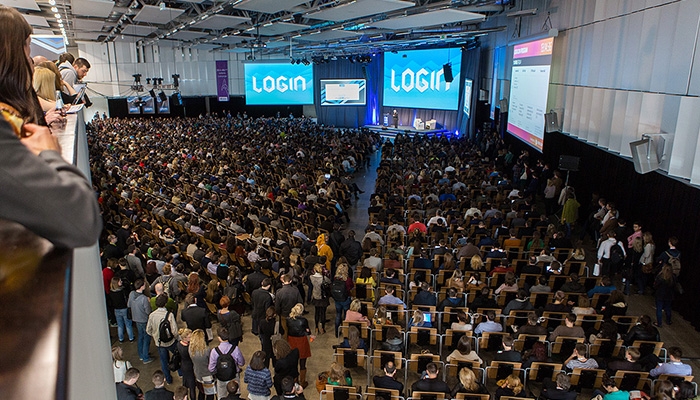 ---
On 5-6 May LOGIN 2016 will storm Litexpo conference center in Vilnius, Lithuania. The biggest Tech And Innovation Event in Baltic states will be hosting more then 100 speakers and 5 000 participants from Lithuania and all over the world. This year there is a nice celebration as LOGIN conference will be held the 10th time. Congratulation to the organizers on this nice round number!
There will be strong and very trendy discussions held this year. One of them is the current situation of leaked secret documents such as current case of "Panama Papers" and their impact on our world. During the event Julian Assange, the founder of WikiLeaks, will address the audience via satellite feed. Then he will get into discussion with Lithuanian journalist Edmundas Jakilaitis on the subjects like is the right to know more important then the privacy.
Another guest for this year is Neil Harbisson, who considers himself being a cyborg. He implanted an antenna into his skull that allows him to perceive colors. Normally these colors are outside human vision such as ultraviolet and infrared. During his presentation Neil will explain how on that taking an active part in our own biological evolution is no longer a theory, but an option. However how many of are ready becoming a technology instead of wearing it?
The conference itself will take two days, but the additional events around the conference started already yesterday. Here is the short summary of what will be going on:
 LOGIN Startup Fair is a Leading Startup Event in Central and Eastern Europe. With its strategic CEE location, LOGIN Startup Fair aims to become the central startup orientated event in the region. 100+ selected startups, 50+ local and international venture capital investors and 1000s of networking opportunities.
LOGIN Game Fest brings together gaming industry developers, manufacturers and fans. It is a place where everybody will be able to find out the latest trends  and hottest topics of the gaming industry.
Teo business summit @ LOGIN – Together with IT and technology company "Teo" LOGIN continues to organise the "Teo Business Summit @LOGIN" – a special event for business leaders.  In 2015 participants of this event included more than 300 national and international business managers and owners.
LOGIN App Camp – LOGIN App Camp is a 2-day mobile app hackathon, powered by DNB. The hackathon will take place at Vilnius Atomic Garden School (Gediminas av. 27) on May 3rd-5th. The main idea like in most such gatherings is to bring the most creative and innovative minds in Lithuania together. Maybe we will see the next Uber coming from Lithuania any time soon?
There will also be a lot of partner events happening around the clock, like "LOGIN goes out", LOGOUT – LOGIN 2016 Internet Awards' Ceremony and fantastic after-party. Here you will find more awesome events.

"Some of the main goals of LOGIN always was to present the visionaries and the technologies, that make the most impact on our everyday and digital world. Also to show the ideas, that are changing the way tomorrow will be or that are raising questions regarding the technology influence to the future." – says Ieva Dirvonskaitė, CEO of LOGIN conference.
There will be a live streaming of the conference on the 5th and 6th of May. The links to the stream are available here.
Short description. There are three stramings:
Omnitel Hall (Omnitel sale) – check the Live Streaming of the Omnitel Hall.
Delfi Hall (Delfi sale) – check the Live Streaming of the Delfi Hall.
Delfi TV Studio – Interviews with LOGIN speakers and guests from Delfi TV Studio.