---
The eHealth hackathon in Slovakia brought healthcare experts, healthcare users, designers, developers, engineers, and mentors together during one weekend to solve problems in healthcare. The organizers of the event were Slovak co-working Connect in cooperation with one of the top providers of IT services, Asseco Central Europe.
Participants came up with ideas such as global online reservation to doctors, mobile application for consultation between patient and doctor about dietary requirements, application for locating emergency services / pharmacies, predictive model for patient hospitalization, web / application for knowledge sharing technologies and others. Individuals were divided into teams and eventually worked on four ideas and two teams were awarded.
The first prize of € 1,000 went to the team working on the mobile app Emergino. The idea behind Emergino was to create the ability for people to quickly find the nearest emergency hospital or pharmacy without the need to go online. This would help in cases when it's not appropriate to call something like 911 (or 112), but when you need to see the doctor today at the latest, for example a serious dental ache or if you've got bitten by a dog.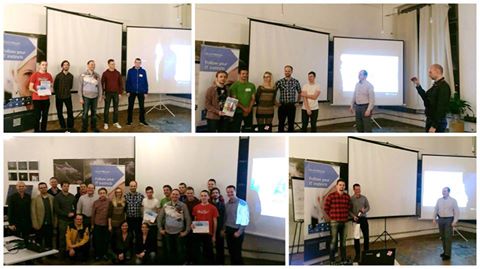 During the hackathon,  the winning team created an online mobile website, which includes Google Maps and the real data for Bratislava including emergency rooms, dental emergency rooms and pharmacies. The smartphone's in-built GPS capabilities would detect your location and display location pins around you. If you click on any of these, it would show its title, address, phone and give you the ability to navigate there via Google Maps. You can try it out at emergino.com. Note that the data is available for Bratislava only.
Second place, with a prize of € 600, was awarded to the team that worked on the application PillsPlan. This application's aim was to solve the problem of irregular medication that can bring about sometimes life-threatening conditions for patients. The application plans to be able to run on everything from smartphones to wristwatches. It would draw users' attention via notifications informing them when they have to take their medication, the dosage, how many pills remaining and warn them when to pick up a new prescription from the doctor. Also, you could use the capture feature to add prescription drugs to your application and share this information with loved ones and keep track of what you take, when and how much.
During the marathon, mentors from Asseco Central Europe, GlobeNet and from Hospital F.D.Roosevelt Banská Bystrica helped the teams, responded to their questions, paid attention to potential risks and helped the teams when necessary. The whole event was accompanied by our experienced entrepreneur startuper in the field of e-health and founder of Mentegram, Milan Steskal.
Guest author: Zuzana Valovicova