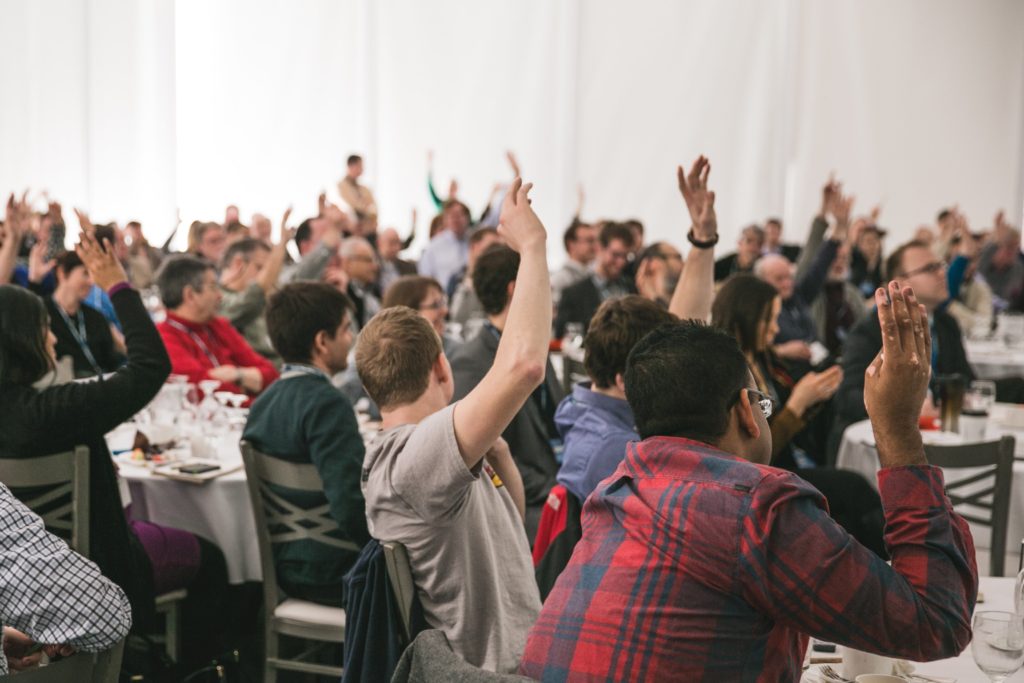 ---
The magic of events
It was during my first year of elementary school that I had the opportunity to attend the very first 'corporate event' of my life. I was amazed by the structure of it, the opportunities to receive 'goodies' from the companies and how all those people in the booths were so friendly.
It was a magical world where all attendees were important, and since I was together with my mom I was also an important person. I was given a badge where I could write my own name (Mr Ricardo!), and like anyone experiencing 'adulthood' for the first time, I was annoyingly interested in all information they could give me.
That experience changed my life. For days, all I could think and talk was about that event.
Since then I have maintained an interest in participating in events, to the extent of creating my own (mainly birthday parties or barbecues) which of course, were nothing compared to corporate or business focused gatherings.
Why was I so drawn to event life? It might be down to the science of psychology but for me at least, the privilege of being treated like an important person firmly secured that place as one where I would love to be.
Why are events good business?
From tech conferences to network meetings, startup meetups and other types of business-related events, there is always a big constant that drives attendees and sponsors to participate in such gatherings. The need for in-person meetings.
With so much information around us, on social media, advertisements, news feeds and everywhere you look in between; business could not be easier to be made, or harder to get. This duality comes from the cliché of the "information age". Yes, we get loads of information every second and sometimes it's hard to filter what is really relevant. The noise is real!
But beyond the obvious realization of the state of communication in the world, data shows us that participating in events is indeed a great deal. Corporations' budget spends on event sponsorship is growing year by year. In North America, the projected spending in 2018 is calculated to $936 Million, a growth of 3.7% from 2017.
It is of common knowledge that events are the best way to avoid "the noise" and get a hold of the "right people". Mainly because of the real-life/real-time interactions in contrast with the virtual ones and, of course, events bring the best results for strategies like brand visibility, market targeting, consumer perception, lead generation and sales.
But how do you get the attention of the most interesting people, taking in consideration the number of other events going on? The answer is not easy but it is simple.
Enter Global Startup Awards (GSA)
Global Startup Awards (GSA) was born out of a vision to connect the startup ecosystems in the world to create a platform that helps investors, talents, business owners, corporations and other ecosystem players to get to know and start cooperating with each other with a strong regional focus.
Within GSA several regions gather countries' startup ecosystems to get to know each other and compete in a friendly network-driven environment. Regions such as the Nordics, Central Eastern Europe, South Europe, South Asia, South East Asia and South Africa bring about 55 countries and their best players to light.
Having different phases in the whole competition system, the event has a simple yet sophisticated way to determine the best players in a given country, region and globally.
I highly recommend watching the 2-minute video on how the competition works to get better insight. Of course, we don't credit the success of this – in our own words- "movement" to only the system we adopt for finding the most developing startups.
We like to create our events based on a strong 3-sided principle – Win- Win-Win.
The "3 Wins"
Our inspiration comes partially from competitions like Eurovision. We say that based not only on the international and inclusive premises of it but also on the countless number of iterations that it got throughout the years; from language, selection to format and jurying system.
GSA events are driven by the objective of being recognized as a multi-sided platform, that's why attending to all our stakeholders means more than just visibility. We look constantly to perfect a strategy where there is added value for all, along with the whole timeline of the event (Before-During-After).
This concent is explained by Kim Skildum-Reid, in her book Last Generation Sponsorship.
"For years, good sponsorship was defined as being win-win, that is, the sponsor wins and the sponsorship seeker wins.'' Skimdum-Reid suggests. ''While having this kind of mutual benefit is a great idea, this approach completely left out the most important part of the equation: The target markets.
Think about it. Who is the sponsor trying to connect with? Influence? Their target markets. Who makes up the audience that drives the revenue – sponsorship and otherwise – for the property? The target markets. Given that the target markets are the pivot point for the well being of both the brand and the property, it makes perfect sense to make the target markets' needs and wants part of the basic infrastructure of best practice sponsorship."
Now, the question that remains is: How to make sure that your event is providing the right "win" for each stakeholder? Of course, this is a much broader field, especially when there are so many different event types and audiences out there. In our case we try to answer simple questions, that guides us through the whole process.
Is your event fulfilling its main mission?

How easy is it for your sponsors and partners to find the ROI

What are the attendees going to be talking about after the event?
This way, for us, the 3 wins would be like:
1st Win (GSA): The event is the realization of our mission, getting people and companies together, bridging the gap between them in an natural and personal platform for technology and business growth.
2nd Win (Partners/Sponsors): Through a dynamic environment and support from our business platform before, during and after the event; corporate representatives get hands-on experience with startup ecosystem.
3rd Win (Participants): The choice of competing in GSA events becomes more than just comparing growth metrics with other players in the ecosystem. By participating, all players get the opportunity to showcase, share and learn. Not to mention the closure provided by the event environment to corporate executives, developer houses and investors.
It is pretty clear that events are an awesome way to interact with a given target market, not only for the personal interactions but also the activation of market strategies have much more impact. It is also wise to understand that every event is different, especially when you want to reach a specific public.
In GSA we try to keep it simple and iterate as much as we can, so every year, in the different regions we have our events, we have one or two elements that are new and being tested.
Our partners are also more than welcome to give suggestions, and good case practices. Relying strongly on our partners' perception and experiences make our events more accurately aware of the changes that comes from the attendees and what they want to see.
There is no win without all wins!