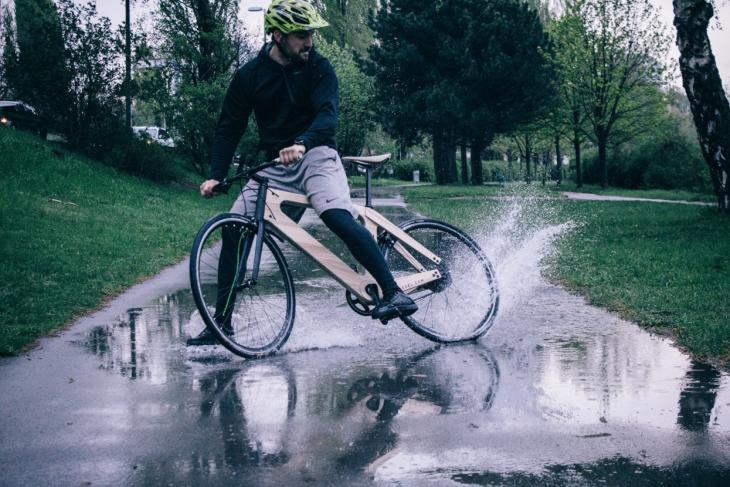 ---
An Austrian startup manufacturer of wooden bikes has been crowned the champion of a startup competition.
My Esel won the ISPO Brandnew startup competition 2018 – the biggest competition for startups in the sports business.
The Austrian startup will be presented as winners from 28 to 31 January at the ISPO Munich.
The competition for 2018 was very tight and competitive as seven winners were selected for seven different categories along with one overall winner, a prize taken home by My Esel.
My Esel is a manufacturer of custom-made bicycles built out of wood. The ISPO has awarded the startup for its innovative combination of made-to-measure and serial production.
The possibility of purchasing customized bicycles is not new. But My Esel differs as an online configurator is used to make a personalized bike.
Co-founder Heinz Mayrhofer said in an interview with www.ispo.co: "With My Esel, we change the way you configure and buy bicycles. Using the online configurator, the Esel can be configured from home or together with the specialist dealer.
"Only one single value has to be measured and the body and shoe size entered. Using a smartphone, tablet or laptop, customers can quickly and easily configure their ideal bike and design their individual desires. In just a few minutes you get to your optimized product in such a playful way, and no bicycle-specific know-how is necessary."
Every startup is born out of a concrete problem. In the case of My Esel, it was co-founder Christoph Fraundorder who suffered the bitter consequences of riding an un customized bike to university when he was younger which left him with back problems. That was the moment where he realized that there is market potential for customized bikes.
Of course Bicycles built out of aluminium, titanium or carbon are far more common than bicycles built out of wood.
"The material not only looks extremely unusual, but is also exciting from a mechanical point of view,"Mayrhofer said.
"Wood is a fibrous material, very similar to carbon, but in contrast organically grown and sustainable. Wood springs and is still stiff.
"With the right workmanship, it is absolutely suitable for everyday use in any weather. In short: Wood is very suitable for a bicycle frame."
All My Esel bicycles are produced in the city of Salzburg in Austria and assembled Linz, upper Austria. The startup will now be hopeful that the new award received in the ISPO Brandnew competition will go a long way in increasing awareness about the startup.