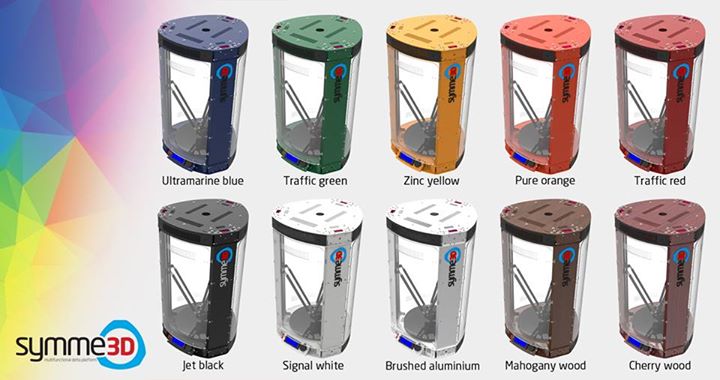 ---
Sculpteo study The State of 3D Printing mentions that in Europe, 3 of the most predominant uses of 3D printing technologies are proof of concept (27%) prototyping (63%) and production (26%). And according to those who are in the business, it is expected to be a 3 billion euro industry by 2021.
Symme3D is a multi-functional Delta platform for 3D printing featuring multiple toolheads like a spindle for CNC routing and Laser for engraving or etching.
[youtube http://www.youtube.com/watch?v=ehovEUsEce0]
As most of the up-and-coming startups, the idea sparked when trying to solve a personal problem. Calin Brandabur, the CEO & founder of Symme3D has previously developed a hardware project for home automation. There he found a challenge in crafting containers in various sizes and shapes, as there was no easy way to do it with traditional technologies.
Five months later they were launching their very first MVP. The team is now formed of 7 tech specialists on areas such as software & hardware engineering, product development, business development, industrial design, embedded systems and communication.
After an accelerated research on prototyping and crafting all the necessary components, Symme3D boasts with the 1st 100% Romanian 3D printer. No less than 26 printers have been sold even before the official launch of the project. The team is expanding exponentially, especially on the manufacturing part as they have more than 350 online queued orders.
Symme3D's revenue model is focused on manufacturing & selling 3D printers at a high scale, additionally providing 3D printing fabrication, product design, development and other contiguous services.
Although Makerbot and Ultimaker are its direct competitors, they stand out at many levels, starting with the technology which allows a higher speed, a more appealing design, symmetric enclosure and a competitive price.
The startup is being funded by the founder himself.
Their early succes has expanded over serious startups competitions, too. After being awarded Romania's startup of the year in the Central European Startup Awards, the team is heading to Sofia to represent Romania in Get in the Ring, a global startup competition.
You can follow Symme3D on Facebook, Twitter and F6S to keep in touch with their latest deeds.