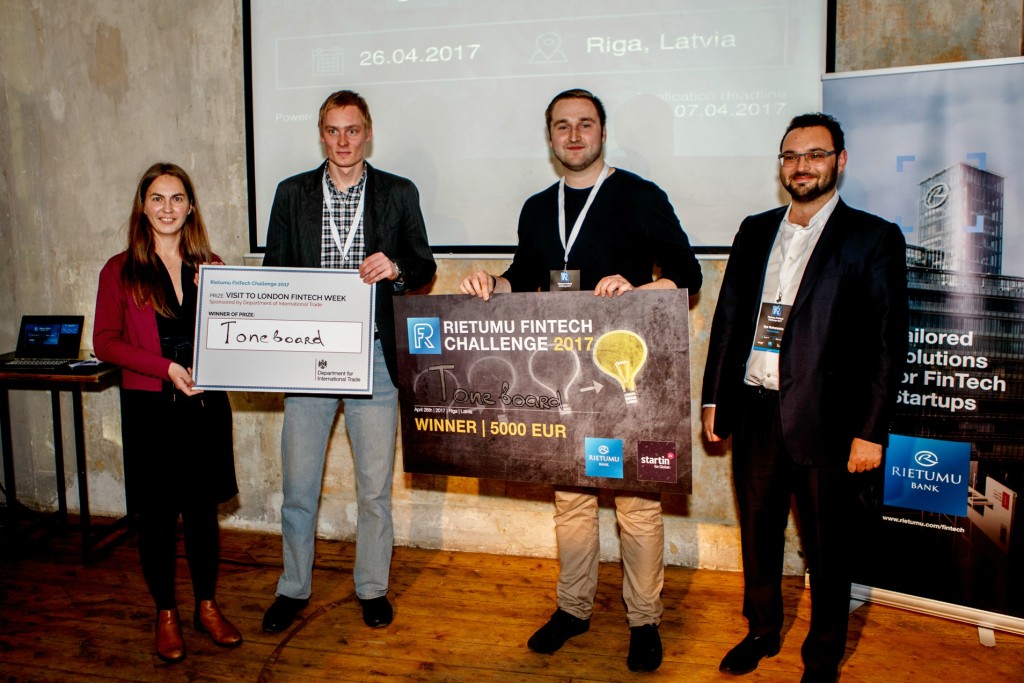 ---
The biggest FinTech startup competition in Baltics region – Rietumu Fintech Challenge 2017 – has ended. This is the third year in a row when this competition has been organized in Riga. The winner is a company from Latvia – Toneboard. The winning team received 5000 EUR from Rietumu Bank as well as the prize from the UK Department of International Trade – an opportunity to attend London FinTech Week 2017.
The event Rietumu Fintech Challenge has been organized in cooperation with Latvian Startup Association founded last year with an aim of establishing a community of startups in Latvia. Organizers received more than 50 applications this year from startup companies all around the world – US, Israel, Germany, all Baltic countries and even Africa. Seven projects were chosen as finalists – Crassula, Toneboard and ForexTeam (Latvia), Paytailor (Estonia), Welltrado (Lithuania), GetZuper (Germany) and Tap2Pay (Israel).
"We are happy that this competition is getting recognized internationally. Teams are ready to travel to Latvia just to spend the day with mentors and get recognition from industry experts. This fact proves that Latvia is becoming the centre of fintech," says Member of the Boards of Latvian Startup Association Jekaterina Novicka.

"It is hard to create the appropriate business model in FinTech industry. The most important thing for the team working in the early stage startup company is to deal with all business challenges. For example, if you are creating a product for proceeding payments, you would need to be able to proceed millions or even billions of payments to get profitable. Also, there should be a huge investment made in terms of effort and money and a creative approach to business. When I'm talking to teams, I always consider whether they could deal with all these challenges. Regarding the winning team – they have a huge potential for the exit and this was their main competitive advantage" – that is how the mentoring session has been summarized by one of the keynote speakers and the co-founder of the company Creamfinance Matiss Ansviesulis.
[easy-tweet tweet="It is hard to create the appropriate business model in FinTech industry – Matiss Ansviesulis" user="150sec"]
There were renowned industry experts in the jury – Deniss Filipovs from Bank of Latvia, Janis Janevics from Latvian Private Equity and Venture Capital Association and Impramatur Capital, Janis Skutelis from FlyCap, Renats Lokomets from the Latvian Startup Association Startin.LV, Matiss Ansviesulis from Creamfinance.
The main prize – 5000 EUR – was presented by the main supporter of the competition and Member of the Board and Vice President of Rietumu Bank, Ilja Suharenko. The second prize – opportunity to attend London FinTech Week 2017 – was presented by UK Department of International Trade and it's representative Tiina – Maria Araja.
In the recent years FinTech has effectively become of the fastest growing startup niches in the Baltic region. It's exciting to see not only the continuing growth of established companies like Estonian Transferwise or Latvian Creamfinance – but also new ambitious companies emerging on the horizon.