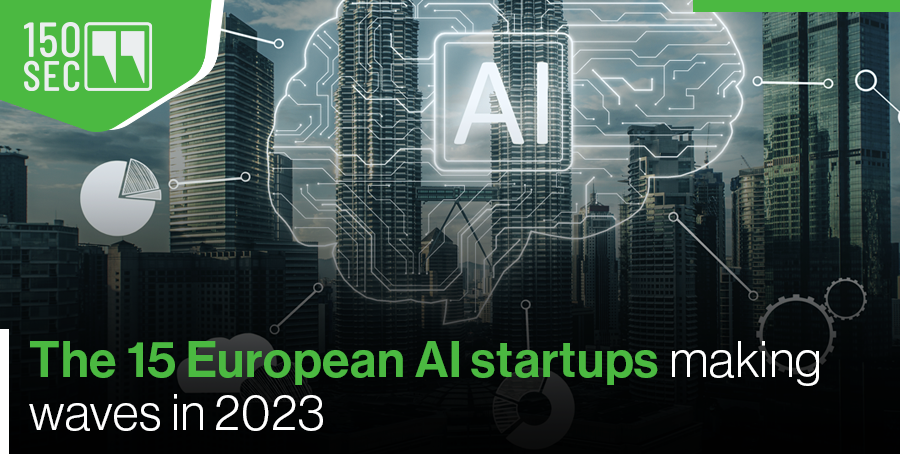 Featured
---
Artificial Intelligence (AI) is no longer a distant concept reserved for science fiction movies. On the contrary, it has become a part of our daily reality transforming how we live, work, and interact with the world around us.
This has resulted in an explosion of investment activity in the AI space. According to Pitchbook there were 6,727 deals related to AI and machine learning globally in 2022 representing a total investment value of $78 billion USD.
As the impact of AI is expected to increase exponentially in the coming years, the European Union is currently proposing a new set of European laws known as the AI Act. The law is set to help regulate the technology and categorize the risk level of its various applications. Allied For Startups, a worldwide network of advocacy organizations helping to policy environment for startups, found in a recent survey that European competitiveness should remain a central part of these discussions.

This is to ensure that innovative startups in Europe can continue to drive breakthroughs in fields such as design, healthcare, logistics, insurance, audio, and more. In turn, these startups will offer solutions that have the potential to revolutionize industries and create new opportunities for businesses and consumers.
Here are the top European AI startups to keep an eye on in 2023:
---
Transmetrics
Transmetrics is a startup based in Sofia, Bulgaria that offers top-notch AI solutions for the logistics sector. By utilizing the potential of predictive analytics and machine learning, Transmetrics helps to optimize transport planning to deliver improved operational efficiency while also minimizing the environmental impact of the logistics sector.
The startup secured €2.5 million in funding earlier this year. The technology integrates the expertise of both humans and AI to analyze, model, and predict transport flows with remarkable accuracy. The team possesses a competitive advantage through their combined expertise in Big Data and predictive analytic technology and the transport and logistics industry.
---
Aflorithmic
Aflorithmic is a Barcelona and London-based startup that provides a platform for creating and customizing AI-generated audio content. The platform allows users to generate human-like voices using AI technology, and then customize them to fit their specific needs. 
This technology can be applied in various ways, such as creating personalized podcasts, voiceovers for videos, and even for generating unique voice assistants. The company aims to revolutionize the audio content creation process by offering a faster and more efficient way to produce high-quality audio content.
---
Barkibu
Barkibu is a Spanish pet health insurance startup and preventive coverage provider that connects pet owners with licensed veterinarians. Along with providing affordable and convenient access to veterinary care, the platform also uses AI technology to diagnose and detect several diseases in pets.
The startup has raised €4.5 million to help further its ability to provide accurate and reliable results to clients with its innovative approach to pet care. With a vast data set built from real veterinarian records, the company hopes to enable faster and more efficient diagnosis of a variety of conditions to improve health outcomes for pets.
---
Tucuvi
Tucuvi is a Spanish telemedicine startup that was created in 2019. Its virtual medical assistant uses empathic AI to provide high-value continuous care to patients over the phone.
The virtual assistant can remind patients to take their medication and follow treatment guidelines, conducts cognitive stimulation exercises, monitor outpatient symptoms for conditions such as heart disease or COPD and evaluate overall levels of user satisfaction. The company, founded by biomedical engineers María Gónzalez and Marcos Rubio, claims to have served over 17,000 patients across eight different pathologies.
---
Voicemod
Voicemod is a Spanish startup that provides voice modulation software for gamers and content creators. Its software allows users to change their voice in real-time during online gaming or video creation, adding a fun and entertaining element to their content.
Voicemod offers a range of different voices, sound effects, and filters, including robotic voices, animal sounds, and celebrity impressions. The company's software is compatible with the most popular communication and streaming platforms, such as Discord, Twitch, and Skype.
Their mission is to provide gamers and creators with easy-to-use and affordable voice modulation tools, allowing them to create more engaging and entertaining content that resonates with their followers.
---
Beams
Beams is a Berlin-based startup that provides AI-driven tools that generate insights from unstructured data. The core product includes a customizable survey and reporting voice recorder infrastructure, as well as plug-and-play insights and reporting dashboard. 
Beams leverages its API development expertise to seamlessly integrate top AI providers, allowing for large-scale processing of reports and surveys in both text and audio formats. Through the utilization of AI and software, Beams enhances decision-making speed and accuracy while harnessing data for strategic and operational purposes.
---
Speechmatics
Speechmatics, a UK-based startup, provides high-quality speech recognition technology for enterprises that has the ability to comprehend any type of voice, regardless of accent, dialect, age, gender, race, or location.
The company's Autonomous Speech Recognition software was a significant advancement in the industry, enabling the company to surpass major tech players like Amazon, Google, Microsoft, and Apple in addressing inequality and AI bias through the incorporation of self-supervised learning into its model training.
---
Endel
Endel, a Berlin-based company, specializes in sound wellness and aims to make it accessible to all. Its team of imaginative developers and artists manages a cross-platform ecosystem of AI-powered apps that generate personalized "functional soundscapes" to help users focus, relax, and sleep.
Endel's patented technology uses inputs like movement, time of day, weather, heart rate, location, and other factors to create soundscapes that adapt in real-time to offer users with a unique and tailored experience.  
---
Owkin
Owkin is a French startup founded in 2016 with the goal of using AI to support biology research. The platform offers combines machine learning with biological data to help identify biomarkers and mechanisms associated with diseases and treatment outcomes.
By using their platform, researchers can access data safely and quickly, allowing for more accurate models. Owkin also incorporates human insight into its platform to ensure the interpretability of its AI models.
The company's mission is to accelerate discovery and research through data access, biology expertise, and interpretable AI. Owkin is working to bridge the gap between biology and AI, with the ultimate goal of developing more effective treatments for various diseases.
---
Sana Labs
Sana Labs is a Swedish startup that provides an AI-based platform for knowledge management in the workplace. Its platform lets professionals manage and access information from numerous workplace apps such as Salesforce, Slack, or Trello in a single place. It combines knowledge management, enterprise search, and e-learning to unlock more from productivity apps.
The AI engine of Sana Labs automatically processes and organizes data from apps so users can apply search queries to easily locate important files and conversations. Additionally, the platform can be used to create personalized e-learning modules including quizzes and interactive sessions.
---
Creative Fabrica
Creative Fabrica is an Amsterdam-based startup that recently secured $61m in funding to expand its on-demand marketplace for graphics, fonts, posters, and needlework patterns.
The company's AI-powered tool lets creators generate images and graphics by inputting text prompts. With this, designers and producers accelerate their creative processes with a text-to-image process for visual materials.
Creative Fabrica hopes to serve a broad customer base with access to resources and materials across a range of creative verticals, from graphic design and logos to popular needlework hobbies like embroidery and quilting. 
---
AI Superior
AI Superior is a German-based AI software development company that provides end-to-end AI-based application development services. The company specializes in designing and building web and mobile apps, as well as custom software products that rely on complex machine learning models and AI algorithms.
Their AI services include the development of end-to-end products and design solutions based on artificial intelligence modules, machine learning, and data science.
The startup provides AI consulting services to businesses of all sizes to help them understand and adopt artificial intelligence to improve operations and drive growth. In addition, AI Superior offers professional education in artificial intelligence, research, and development activities that support the growth and development of organizations.
---
Kili Technology
Kili Technology is a Paris-based company that provides a collaborative platform to help enterprises annotate and label unstructured data, such as videos, images, contracts, and emails. The company's mission is to bridge the gap between raw data and the requirements needed to build AI at scale for companies. 
---
PolyAI
By providing efficient data labeling services, Kili Technology helps its customers turn raw data into training data that can be used to scale AI applications and solve business challenges.
PolyAI is a London-based startup that provides voice assistant services for call centers across a range of common call-handling use cases including reservations, troubleshooting, and billing resolutions. The company claims its technology is more advanced in terms of language understanding and inference capabilities, offering a truly human-like experience for customer service calls.
Its AI system can interpret the context of a customer's inquiry and respond appropriately, rather than relying on keywords and decision tree-style flows. It can also carry on an open-ended and "intelligent" conversation with customers, making it capable of completing many tasks that a customer service rep can.
PolyAI's voice assistant technology has already been deployed by companies such as FedEx and Marriott, and the company closed a $40 million Series B funding round led by Georgian last year. 
---
Text.cortex
Text.cortex is a Berlin-based startup that offers an AI-powered writing assistant for businesses. The platform uses natural language processing and machine learning algorithms to generate high-quality content, such as marketing copy, customer service emails, and blog entries.
It integrates with existing tools and offers prompts to guide the writing process, helping businesses improve their content creation workflows and produce higher-quality content efficiently.