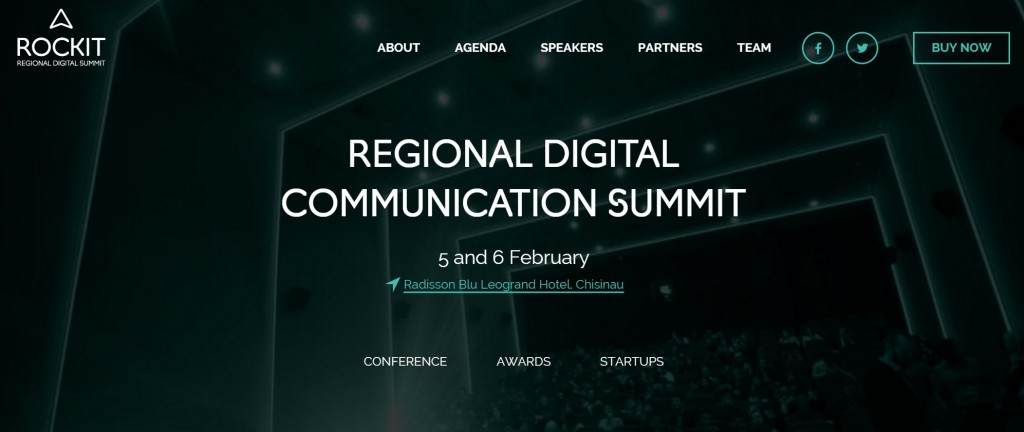 ---
ROCKIT Regional Digital Communication Summit is the first and biggest tech conference to be held in Chisinau, Moldova on 5th and 6h of February 2016. The organizers have prepared two days full of awesome worldwide speakers, the RockIT StartUp Competition for the best digital ideas and the Digital Awards Competition  for 5 categories in digital proficiency.
500 attendees, 24+ speakers and 50 international guests from 17 countries will discuss and debate current industry trends, best practices and latest strategies in digital communication, innovation and entrepreneurship.
Industry leaders and world-changing people will come together to inspire and drive forward the regional industry.  Meet some of the greatest speakers:
– Mike Butcher, editor at large at TechCrunch will rock the stage
– Adam Harrell, Founder at Nebo Agency and Executive Director of Startup Atlanta, USA, focused on growing, connecting and promoting the local startup ecosystem.
– Dragos Stanca, Managing Partner at ThinkDigital and founder of ICEEfest, Romania, a media and marketing expert, focused on emerging markets of the CEE region.
– Alan Soon, Founder & CEO at The Splice Newsroom and Asia's leading expert on newsroom operations and the business of media.
– Sarah Frank, Executive Producer at NowThis News, previously a head of video for New York Magazine and multi-media producer for Newsweek.
– Oleg Naumenko, member of the strategic communications team within the Administration of the President of Ukraine. His topic is on Crisis & Military Communications in Ukraine-Russia conflict.
– Triin Mahlakõiv, Program and Community Manager at Tallinn Science Park Tehnopol, Estonia, currently helping tech entrepreneurs to access knowledge, networks and capital in the biggest Baltic tech hub focusing on health tech, clean tech and IT.
– Agata Kukwa, Cofounder and Communications Leader at 150sec.com
– Jon Woodrow, owner at Twotone Consulting, an Amsterdam based sales, marketing & PR agency stoked on where startups, cycling & tech meet.
– Justin Varilek, CEO and Founder at HackPack, a global network for the media industry that connects journalists, fixers, photographers, videographers, editors and experts.
– Eric Barrett, CEO and Coordinator at JumpStart Georgia. A strong advocate for open government and an open data hacktivist and a self-taught coder.
We are a partner of this conference and you can find more info on www.rockit.md or their Facebook page.