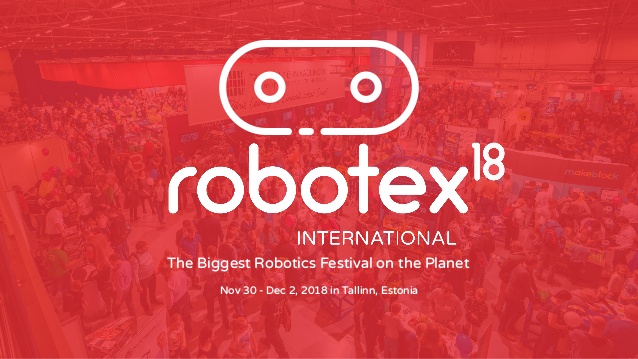 ---
In just a few short months, Estonia's capital Tallinn is set to transform into the beating heart of Eastern Europe's artificial intelligence community.
The brainchild behind this is Robotex International, a globally recognised organisation that has brought together the ecosystem's top AI specialists over 18 times already for a three-day event of robotic excitement, and this year are aiming for even bigger and better. Pioneering the development and progress of AI, if you find yourself at the Estonian Fair Centre or at the Tallinn Creative Hub in the first few days of December it is likely that you will be brushing shoulders with tech innovators from NASA, Google and a range of other exciting tech-doers.
Among the stellar line-up of keynote speakers set to descend on Tallinn at the end of this year, you can find Cassie Kozyrkov, the Chief Data Scientist of Google, Regina Nijima, the Director of Singularity University Global Impact Challenges and Liviu Babitz, CEO of Cyborg Nest, to name just a few.
This year's event, taking place simultaneously across two locations as well as through numerous satellite events in the city, has expanded to specifically factor in the ever-growing demand for artificial intelligence, and its wider impact across the globe. The event will be opening its doors to technical executives and startup pioneers who are involved with technology development, investing in or affecting changes in legal frameworks. As well as hosting a series of inspiring talks and networking opportunities, the main focus is to leave a lasting imprint on visitors which aims to encourage an exciting outlook on future developments.
"Anyone, regardless of their age, is capable of shaping the future," – Robotex.
Although AI is a hot topic, that is certainly not all that is in store for Robotex attendees. Specialists will also explore cybersecurity, self-driving cars, health tech, women in tech, industry 4.0 and education systems, catering to every tech enthusiast's areas of interest and creating space to stretch specialists' ability and knowledge.
Throughout the event, the focus will also be geared toward addressing the uses of mobile networks such as
YouTube. Overseen by Elisa, a company that prides itself on creating AI in chatbots, The challenge will be to then analyse viewing experiences with the use of artificial intelligence instead of looking at customer feedback. The challenge will bring together data scientists from across the globe to join forces in applying AI in the most efficient and progressive methods. Of the event, leading data scientist of MindTitan, Markus Lippus, recently spoke of his vision and how ideas that sprout from the event have the potential to manifest in more ideas in the future.
"Ideas developed by the participants will not be mere intellectual muscle flexing,'' he said. ''It is quite likely that those ideas will be implemented at a later date. The body of data available for analysis comprises legitimate examples of real-life network usage and allows the participants to apply various approaches to achieve the desired results. An important part of the challenge is the results' presentation skill as it serves not only to communicate conclusions to the audience but also to better understand the data processes."
The reality is that AI is set to take phenomenally larger strides as its potential benefits become more fruitful around the globe. Rapidly allowing enterprises to evolve, it is through prominent events such as Robotex International 2018 that Eastern Europe has the opportunity to put the newest developments to the test.
Can't make it to Estonia? Robotex is now taking place across the world in exciting locations such as Colombia, India, China and the USA.
Teams can register for the Elisa and MindTitan challenge until 7 November. Registration website: https://voistlus.robotex.ee/