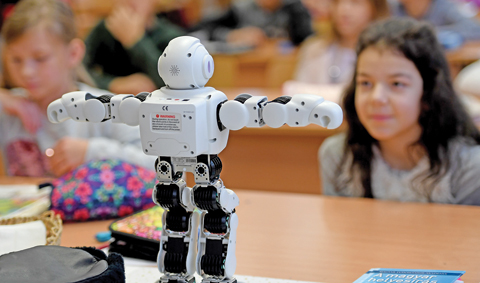 ---
A robot has been helping the Hungarian police educate school children about crime.
According to the AFP news agency, the small robot, named Robi, has been helping the cops inform children – and the elderly – educate school kids and the elderly on crime by giving presentations.
Robi was created by a police educational instructor, Csaba Erdos. Erdos revealed that the main idea behind programming Robi was the fact that he felt a robot can attract a lot more attention from its audience, especially if it's a long speech.
"It grabs the attention more if a robot is talking, It's a new way of communicating and presenting," Erdos told AFP.
Since its creation in May, Robi – who weighs 1.6kg – has been Erdos's little assistant, accompanying him to presentations regarding a host of issues such as crime prevention, digital security and road safety. Erdos feels that Robi has been such a success that he revealed that he he hopes to release more similar robots for various causes up and down the country.
Robi's reception from its primary school audience at the Tiszaparti school was overwhelmingly positive. After the presentation all the children laughed and attempted to mimic the 40cm-tall bot's moves.
One child said he had never seen a talking robot apart from the ones in the transformers while another kid, Milan Markus, added: "His voice took a while to get used to but I loved it, he was very clever."
"Robots can be a force for good, helping and supporting people, rather than replacing or threatening them, as they are sometimes portrayed in films," said Erdos.
Robotics are becoming a big focus in the CEE region.
Estonian capital Tallinn hosted the Robotex 2017 in November where there was a live concert hosted exclusively for robots – believed to be a world first.