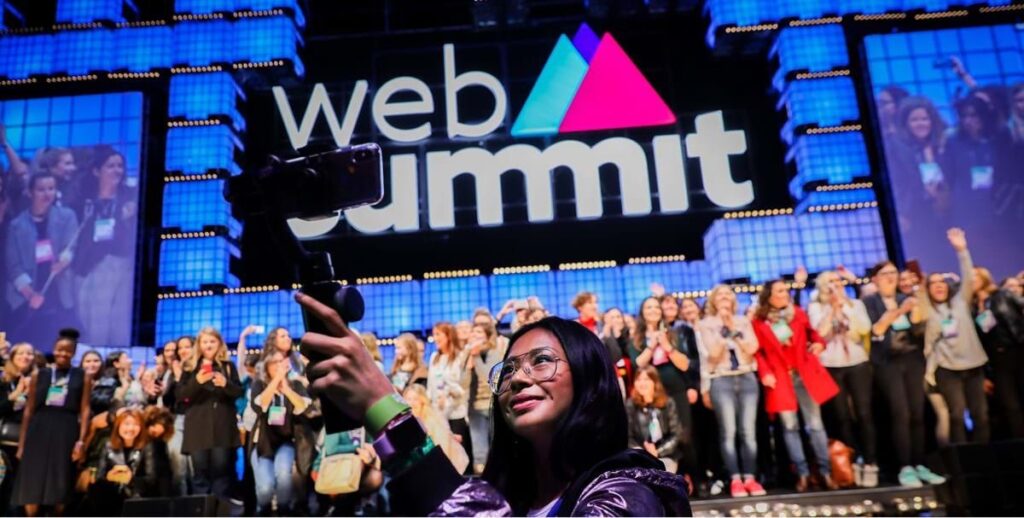 Events
---
Curtains came down on Web Summit 2021 last week, with Europe's largest tech conference leaving the participants with the message that tech is both a boon and a bane and reminding Internet giants of the far-reaching impact of their decisions.
The event, which draw over 42,000 people from all over the globe to Lisbon, had something for everyone, including keynote speeches from a diverse set of industry leaders, a startup exhibition, educational sessions, networking opportunities with investors, and talks from celebrities and cultural icons.  
Whistleblowing, blockchain, and artificial intelligence dominated the conversations, and Portuguese officials took to the stage to reiterate their decision to transform the capital city into a world-leading hub for innovation.
Here are some highlights from this year's Web Summit:
Aiming for 100,000 attendees
Portugal's President Marcelo Rebelo de Sousa said during the closing ceremony that Web Summit—which will stay in Lisbon at least until 2028 thanks to a deal with the Portuguese government—aims to host 100,000 participants next year.
The conference's capacity was reduced this year from 70,000 in 2019 to allow for more physical distancing amid the ongoing coronavirus pandemic. But Rebelo de Sousa sounded confident that the event will return even stronger in 2022.
"Web Summit is about people, not about technology," he added, saying that the next edition is not to be missed.
'Facebook would be better off without its founders'
Ex-Facebook employee turned whistleblower Frances Haugen called out her former employer for disregarding user safety in the pursuit of profit.
She also said Facebook's parent company, rebranded Meta last week, is unlikely to change if its founder, Mark Zuckerberg, remains in charge.
Haugen specifically focused on Facebook's engagement-based prioritization of content in the news feed, saying that it has dangerous side effects as t amplifies the most polarizing, divisive, and extreme content.
"I genuinely believe that there are a million, or maybe 10 million lives on the line in the next 20 years, and compared to that nothing really feels like a real consequence," Haugen commented when asked if she fears for her life after releasing thousands of pages of internal documents that Zuckerberg has said are being used to paint a "false picture".
'Democracy at risk if Facebook does not change'
Roger McNamee, a former adviser to Zuckerberg, said democracy "may never recover" if Facebook does not change course, arguing that misuse of user data to manipulate consumer behavior should be made as unethical as child labor.
"It should be banned the same way that child labor was banned," McNamee said. He also noted that revelations from Haugen have created an opportunity for reform at the social media empire.
'Meta working on ways to protect users'
Nick Clegg, vice president of global affairs and communications at Meta, said the company is working on ways to ensure users are protected in the metaverse.
Facebook changed its name to Meta to highlight its focus on building the "metaverse", a shared virtual space that it bets will be the successor to the mobile Internet.
"This time we can work with academics, we can work with lawmakers, we can work with regulators together and collaboratively to put the guard rails in place before the technology matures," Clegg told Reuters during the Web Summit week, while mentioning that it could take at least 15 years for the metaverse to come to fruition.
Apple objects to proposed European app store regulation
Craig Federighi, senior vice president of software engineering at Apple told Web Summit that the European Union's draft guidelines that could allow customers to install software from outside its App Store would open a "Pandora's box of unreviewed malware and software".
"European policymakers have often been ahead of the curve… But requiring side-loading on iPhone would be a step backward," he said, using a term that refers to unofficial app installations.
Big Tech critics say Apple and other leading tech firms use their control over software to further establish their dominant positions. Apple argues its policies are aimed at keeping users safe.
'Social media companies make money from hate'
Former French football star Thierry Henry told the audience at Lisbon's Altice Arena that he planned to fight online harassment and pressure social media companies in collaboration with an NGO and his sponsor Puma.
Social media companies "generate money through hate," said the ex-Arsenal player, who announced a social media boycott in March in protest at the platforms' failure to tackle racist abuse.
His decision triggered a wave of similar moves that resulted in a weekend-long blackout by football and other sports in the United Kingdom on April 30.
'Social media is both treacherous and empowering'
American actress Amy Poehler used her time on stage to emphasize the need to promote women.
"I've had a few female mentors who have changed my life. I believe strongly in mentoring and leading by example. A young woman's life is such a precious untapped resource," she said.
The co-founder of Amy Poehler's Smart Girls, an organization dedicated to helping young people cultivate their authentic selves, also said social media is both "treacherous" and "empowering".
"Now young women and girls are very keen on making sure the person delivering the message is authentic. They know when people are trying to trick them, gaslight them or use them," she added.
'Everything of value on the web will be an NFT tomorrow'
Nicholas Julia, co-founder and CEO of French non-fungible token (NFT) fantasy gaming company Sorare, said NFTs will be the underlying technology for everything of value on the web within five to 10 years.
NFTs are digital certificates of ownership representing artwork, images, videos, music, and more, and Julia says they could change the tech industry for the better.
"We want people to feel the benefits of it, that you truly own your digital good, that you can move it, and so on without having the friction of crypto that most of the crypto products have today—it's complicated. I see that it's a technology that's going to underpin everything of value on the web."
Web Summit in numbers
According to organizers, this year's Web Summit hosted 42,751 attendees from 128 countries, with more than half of the participants being women for the first time ever.
The conference provided a platform for 748 speakers and 1,333 talks. In addition, 1,519 startups, 872 investors, 1,878 media representatives, and 211 partners were in attendance.
Web Summit will return to Lisbon next November, and pre-registration is now open for the 2022 edition.