---
Having been founded in just 2014, hackajob has taken strides in the last few years from starting as an idea between university friends to becoming one of the region's most innovative digital recruitment agencies.
Just four years since their launch in London, the pair behind the concept, Razvan Creanga (CEO) and Mark Chaffey (COO) now have offices around the continent as they relentlessly help to streamline the hiring process and match the most exciting tech candidates to their next employment.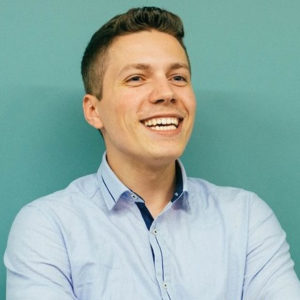 Just last month, the company also raised £5m from an investor pool led by AXA Venture Partners, as the company sets its sights on further expansion as far as the US.
Based in London, the platform offers a fast track recruitment process for hiring software engineers and tech specialists.
By allowing prospective candidates to demonstrate their coding ability, the platform's AI can then assess that data, and the developer's talent, and match them to specific job opportunities.
''The average time to hire a technical person in the UK and Ireland is 51 days,'' Romanian CEO Razvan Creanga recently reminded 150Sec. Having come to London to study computer science, his journey to hackajob had been preceded by the launch of three earlier startups and a fateful meeting with Mark Chafey in one of the CEO's favourite London locations, Cafe Nero in Liverpool Street.
The reality is that the recruitment process, especially in tech startups, is becoming increasingly difficult because of the huge competition for talent. The option that many entrepreneurs face when looking for new developers varies from job posts on LinkedIn to the help of recruiters. What's more, companies are in competition to snag the best tech minds from taking up roles at leading enterprises such as Google or Microsoft.
Hackajob has the answer to all of the dilemmas that accompany the hiring process. The platform is free for software developers to use and essentially reduces the average hiring time by slashing recruitment costs and time constraints. ''The core package is actually basically to help people get the job based off their skills, not their CV, and the vision for us is to become the biggest recruitment company in the world.''
As well as streamlining the recruitment process, Creanga told 150Sec that the platform also makes the hire specifically about the code. ''We're basically helping companies hire more diverse talent, as well, because it's suddenly not about their name, their backgrounds or if they're women.''
Besides the platform, hackajob has further introduced a personal side and each candidate is assigned a Talent Advocate to support their job search. This person is not incentivized place the candidate in a specific role and instead remains on call to discuss applications and guide them through the job hunt.
It's not, however, only to the benefit of budding tech candidates that have the chance to present their code in their profiles.
''What hackajob does for some companies is it helps them showcase the cool thing that they're working on.'' Razvan points out that in order to allow startups to stand out above leading tech contenders, the platform means they have a chance to both highlight what they're looking for and entice candidates through a better explanation of their work.
''We built a product that our users love… we're solving a huge issue in the industry, which is hiring technical people, and we both know how difficult that is.''
The company is not just looking to improve tech recruitment but are casting their net into others areas of hiring that could benefit from their streamlined model. ''We're going to start with marketing and then with finance. So hiring finance and marketing professionals for companies in a very data-driven way.'' Scaling by industry is also going to coincide with scaling by geography, with international offices anticipated in Paris and the US.
Hackajob is scaling by country but also by city, which has played into their benefit when it comes to looking at central and eastern Europe as a potential for future expansion. ''I think we have a very good understanding of the Romanian market, especially for hiring there and we're going to hire another 30 people.'' Although based in London, Creanga already has an office in his native country of Romania and when it comes to further growth, he considers the importance of client bases, markets, macroeconomics, all of which he certainly has a grasp of in regards to native Romania.
The question of what might happen next March following Brexit might also be playing on the minds of potential developers from overseas. Even though the company works with the biggest brands across Europe, Creanga explained that the company hasn't felt any impact on business as a result of the upcoming Brexit vote. ''I think highly skilled people won't be affected by Brexit and I'm part of two parliamentary groups and this is kind of the jist. It is not going to affect the people that are already here and especially the ones that are highly skilled.''
With over 60,000 software engineers currently using the platform, as well as over 1,000 companies searching for talent, Creanga certainly knows a thing or two about the best practice for getting hired. ''I think they should focus on what they know best, which is how to code,'' he advises potential candidates.
''So what I would do is set up a GitHub profile – basically show my code online – and then I would sign up on hackajob, obviously, where you can add your GitHub profile onto hackajob and we can that automatically look over your codes and suggesting matches with companies based on your code.''
''And then I think it's also very important for technical people, apart from a coding site, is for them to be good communicators. You need to understand and explain your code base… so I think it's super important to get some sort of guidance and coaching, if possible, and this is again something that hackajob can offer.''
''Show what we're best at, which is code. Put it out there, going on sites like hackajob and then also try to get support and coaching on the cultural fit side, which is like the way you communicate, the way you should talk about your skills, the way you present yourself.''
Are you on the job hunt? Perhaps hackajob is where you need to look.