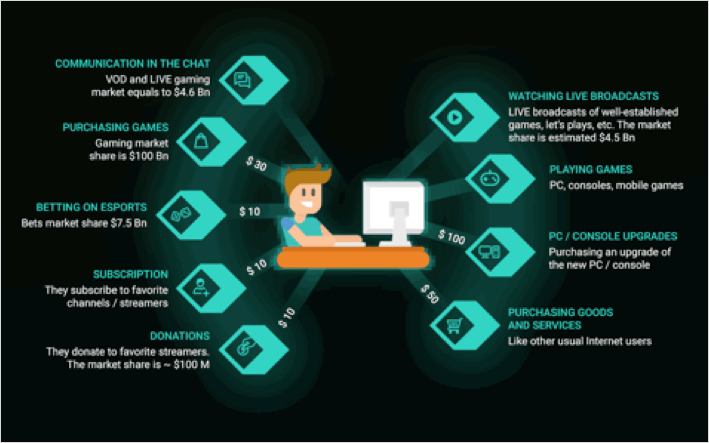 ---
This article is sydnicated from our partners at East-West Digital News
As previously reported, ICO activity in the CEE region is buzzing right now.
And as it shows no signs of slowing down, Belarusian startup Play2live has announced the completion of a token sale which it claims generated the equivalent of $30 million in less than two months.
Launched last year, this startup with roots in Belarus and Russia offers an original approach to eSports in terms of both technology and business models.
The platform wants to attract eSports aficionados by increasing Internet speed. To achieve this goal, Play2Live is set to deploy blockchain-based decentralized P2P networks. In the scheme, only one user gets data from the traditional centralized CDN, and all users then share content with each other. Thus users of the same content join together to pool their resources and bandwidth.
The startup also aims to "create a new economy" based on a revenue-sharing model.
"Streamers will be able to monetize their content in 11 ways instead of only the four or five on existing streaming platforms. They can earn right from their very first stream, regardless of the size of their follower base," Play2Live's founder and CEO Alexey Burdyko told East-West Digital News.
Viewers, on their side, can monetize their content in several ways — a first in the eSports video-streaming industry, Play2Live claims.
"They can earn tokens by watching ads, performing tasks set by streamers, voting for content, and sharing their internet bandwidth via peer-to-peer CDN," Burdyko explains.
Called Level Up Coin (LUC), these tokens will be the only means of payment in use on the platform. They can be used to buy games from partner stores, participate in tournaments, bet on teams and competitions or make donations directly to streamers.
The tokens can also be converted to other cryptocurrencies or to fiat money through a gateway/API.
Play2Live says it works with tournament organizers to set up tournaments that match the wishes of users – and also organizes its own. For example, by the end of February 2018, Play2Live will host the world's first eSports tournament with a crypto prize pool in Minsk, Belarus.
Viewers can thus influence the content and end-results of tournaments: for a few LUCs, they can vote for the teams they'd like to see competing against each other and have their say on the tournament format, commentators and even locations.
Meanwhile, streamers can set tasks for viewers – such as watching other streamers or watching ads — and reward them for completed tasks.
"We treat streamers as B2B partners, incentivizing them to attract new viewers and offering other forms of monetization," says Burdyko.
Industry veterans go ICO
Play2Live's founders aren't new to eSports. Before launching Play2Live in June 2017, Alexey Burdyko founded one of the largest eSports holdings in the region, the Minsk-based Game Show Media Holding. This company was valued by EY at $36.8 million in 2016, according to the entrepreneur.
Burdyko has also organized eSports tournaments, including intercontinental eSports show matches, and headed GSL.tv, a Lithuanian tournament platform.
In November 2017 Play2Live released its minimum viable product (MVP); two months later, the company launched 24/7 live rebroadcasts in six languages – English, Korean, Japanese, Spanish, Russian and Chinese.
In addition, Play2Live has already started an early adopters program for streamers and eSports fans in their official Telegram-chats that allows users holding their own streams to provide a full live-streaming experience.
The startup claims to have raised the equivalent of $18 million over a few weeks in January 2018 through private and public token pre-sale events, then another $12 million (hard cap) in the last stage of its ICO in March.
Amid industry boom
Play2Live arrived on the market at a time when the global eSports industry is booming.
In 2017, the industry reached $1.5 billion and is forecasted to grow up to $ 2.3 billion in 2020, according to data from Superdata Research cited by Russian mobile phone company MTS.
Russia, in turn, is among the front runners of the global eSports industry. A study by PayPal and Superdata Research revealed that the Russian eSports market is the second largest in Europe after Sweden, amounting to $35.4 million in 2016.
Major local players have set their eye on this market, making large investments and major acquisitions.
Thus, in 2015, Russian billionaire Alisher Usmanov announced an investment of "$100 million or more" in Virtus.pro.
More recently Winstrike, a Russian globally-oriented eSports company, attracted $10 million from private investor Nikolai Belykh and several business angels.
In early 2018, Mail.Ru Group — an LSE-listed Internet company which controls the largest Russian-language social networks and a range of online gaming companies — announced the full acquisition of ESforce.
This company owns two world-class clubs (SK and Virtus Pro) and controls a plethora of websites and social media groups as well as video production studios, an event company, global database, trading and analytics platforms.
Just days before, MTS, a leading Russian mobile operator, announced the acquisition of Gambit Esports for an undisclosed amount. With its four teams (16 players in total), Gambit Esports participates in the most popular cyber game disciplines, repeatedly earning world and European championship titles.