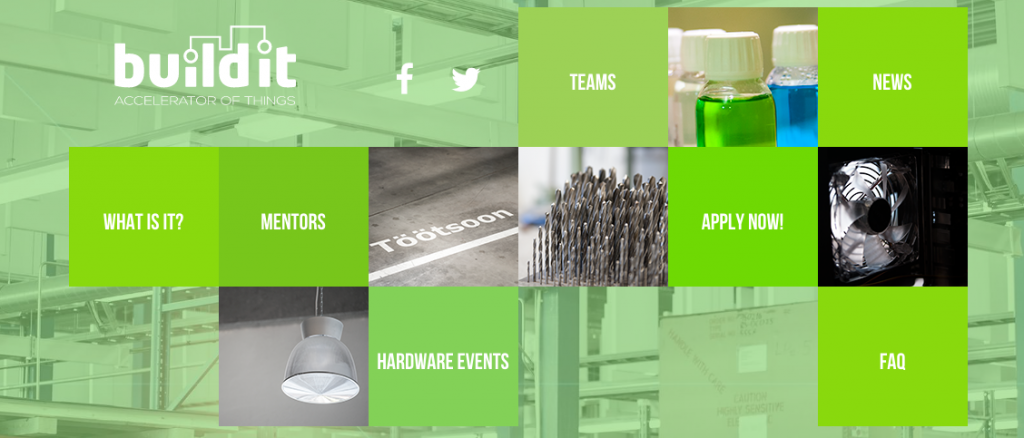 ---
When looking at the picturesque city centre of Tartu, Estonia, one would never suspect a vibrant startup buzz happening behind these walls. In fact, every year, two batches of startups move here to participate in a program run by Buildit, a full-program hardware and creative industries accelerator.
Buildit focuses on the intersection of hardware and creative industries, accepting applications from over the world with a stronger emphasis on CEE region. Teams should have preferably two founders and are expected to have a working prototype (or at least be close to building it). Every team entering the program will receive a €3,000 investment from Buildit in return for 3% in advisory shares to cover their living costs during the programme with a view of receiving a bigger investment later on.
The accelerator is based in the premises of the SPARK business and community centre for tech and hardware companies. Out of the up to 10 chosen teams, each will receive free office space and is welcome to use prototyping facilities, partner services, and a wide mentor network.
For its 6th batch, Buildit has decided to take on a new approach to the traditional accelerator model of a 3+1 months program. Instead, they will be delivering a shorter but more intense month-long mentoring programme, covering topics ranging from business idea validation and prototyping to fundraising and pitch training. Teams who show commitment and dedication during this month can move on to a tailor-made follow-on programme with a chance for an additional investment.
"The programme is designed specifically with hardware and creative industries startups in mind, to give them the best possible tools and access to top mentors. "

Maarja Pehk, COO at Buildit
The list of Buildit mentors is no less than impressive – it includes over 90 successful VCs, founders, and researchers from 15 countries. Among others, there are mentors from Microsoft, Kickstarter, Indiegogo, Fortumo, GrabCAD, Dragon Innovation, Upverter, Hackster.io, and other big names.
The idea to start Buildit dates back to 2013. The program was founded by Aleksander Tõnnisson's Engineering Bureau, Tartu Science Park, and Baltic Innovation Agency. Its partners and supporters include Garage48, Tartu Science Park, Protolab, Enterprise Estonia,  and many others.
Successful alumni from five previous batches include a spray printing startup Sprayprinter from Estonia, US-based FlipFlic which turns ordinary window blinds into smart ones, and Tartu-based insoles producer Heelosophy, to name a few.
[easy-tweet tweet="Estonian Hardware Accelerator Buildit is Looking for #CEE #Startups" user="150sec" hashtags="CEEmakers" url="http://goo.gl/O80ZEM"]
In a world where software accelerators dominate the startup scene, hardware accelerators are gaining foothold and becoming increasingly popular. In EU, the biggest players include HARDWARE.co in Germany, Industrio in Italy, and Austria-based Hardware Tribe. The idea behind combining technology with creative industries is to build innovative products that transform entire industries.
Buildit is currently open for applications from hardware and creative industry startups all over the world. To accommodate the interest, the deadline was extended until 14 August this week.