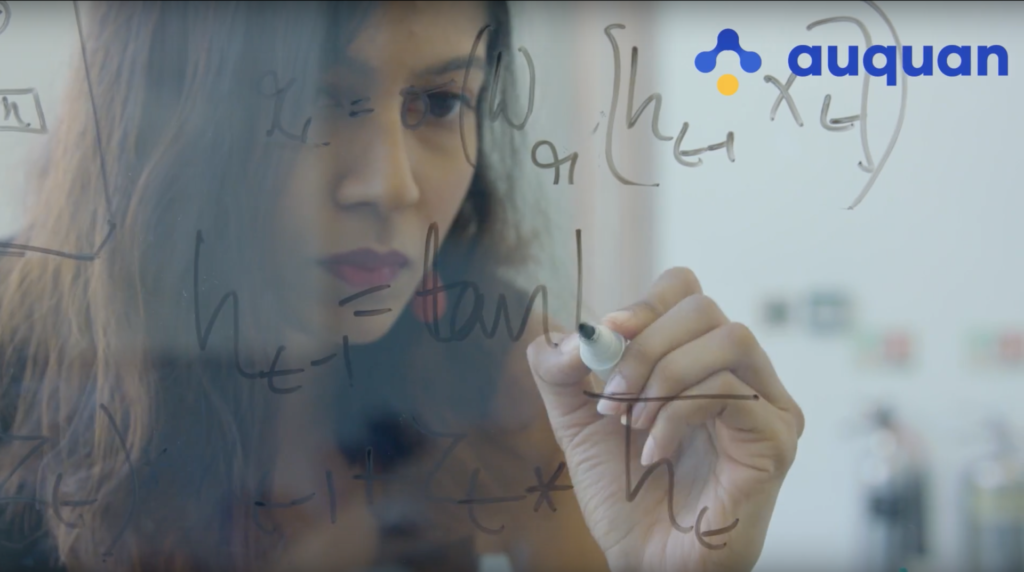 Featured
---
Amid the deafening noise of the coronavirus pandemic, some forward-looking startups are making a quiet yet profoundly impactful effort to block out the commotion and help people make sense of all the information they constantly receive.
Auquan is one of those businesses who is making its share of contribution to this worthy cause through offering solutions that can help asset managers and hedge funds screen out unimportant data and make more informed decisions.
"In investment management, a lot of decision making is still very subjective. It's very intuition-driven and experience-driven," Chandini Jain, founder and CEO of London-based Auquan, told 150sec in an interview.
Chandini says there is a lot of information to look at in this field and the traditional way of studying companies' annual reports, trading updates and news, and similar information is no longer proving efficient. Auquan wants to streamline this procedure with the help of artificial intelligence.
"We're basically a data science platform for investment management. And we're trying to make the process involved more efficient, more accurate, and better by incorporating alpha-generating insights extracted from large amounts of structured or unstructured data," she said.
In pursuit of this vision, Auquan has created two products, namely Portfolio Activity Monitor and Signal Research Suite.
Portfolio Activity Monitor provides users with critical news, non-obvious connections, and online data that impacts their investments so they can act before the rest of the market.
Signal Research Suite, which is coming soon, is designed for automatic signal generation through using advanced machine learning. It allows clients to extract predictive power from any time series dataset and create profitable signals.
Unique Solution
On what makes Auquan stand out, Chandini, an ex-trader at Optiver and a former analyst at Deutsche Bank, said one of its distinctive features is the fact that it is very customer-focused.
According to her, there are other companies who are trying to solve business problems for the end customer but Auquan is trying to create a complete package as part of its efforts to become the data science machine learning platform for financial services where all kinds of data analysis can be done seamlessly.
Elaborating on their solution, Chandini explained that her company actually tackles two kinds of problems.
"To make decisions as a portfolio manager, you need to understand the business of a company, the people who run it, the products it sells, the markets that it sells in, the clients that it sells to, its suppliers, its competitors, its share of the market, and how that market is looking."
And you have to keep an eye on more than just the company to understand all this, Chandini added, saying, "You have to monitor its entire ecosystem, but it's not humanly possible. That's the first part that we have solved for clients."
In other words, Auquan increases the overall volume of information available to clients to make decisions. However, as the UK-based entrepreneur says, "all these data are not important".
"So while expanding the information that's available to clients, we also filter out what's noisy and useless and give them only what they should be focusing on," said Chandini, who studied computational science at University of Illinois—Urbana-Champaign.
Asked how big the market is for AI in asset management, she noted that only 30% of businesses in this field have a fully built AI system so 70% of the market is open to this frontier technology.
Prospects for AI in asset management are well reflected in a recent report by the business consulting firm Grand View Research that says the global market is expected to grow to an astounding $13.43 billion by 2027, expanding at a CAGR of 37.1% between 2020 and 2027.
Main Challenges
As for the challenges facing AI adoption in this sector, the CEO of Auquan said the biggest issue is that it is a very risk-averse industry for good reason. "If you're dealing with people's money, profits are good, but losses are really bad."
This means that startups getting into this space need to show clear value upfront, added Chandini, who is sharing her knowledge and expertise as a mentor at the USC Incubator of the University of Southern California.
She maintains that the second challenge is the slow-moving nature of the sector, which "makes it the last industry where innovation usually comes as most players prefer to work with tested and verified technologies instead of experimental technologies."
The third challenge, in her opinion, is distrust of technology, especially AI, with many fearing that automation is going to take away their job.
"But they should understand that people are still important in processes like this. What machines can do is make them better, help them complete tasks that are otherwise very time-consuming for them faster, and bring forward data points that they might miss."
Chandini says expectation of what technology can do is also not clear yet and that she needs to clarify it in her talks with clients that their solution is not meant as a replacement but rather is something that is going to augment them and help them do their job better.
The founder of Auquan sees a bright year ahead for her company as "people have become more open to the potential of alternative data and data-driven insights."
"There are very interesting opportunities for us," Chandini said, adding that Auquan, as its name suggests, will continue to bring a quantitative angle to investment management in order to give its clients an edge over their competitors.