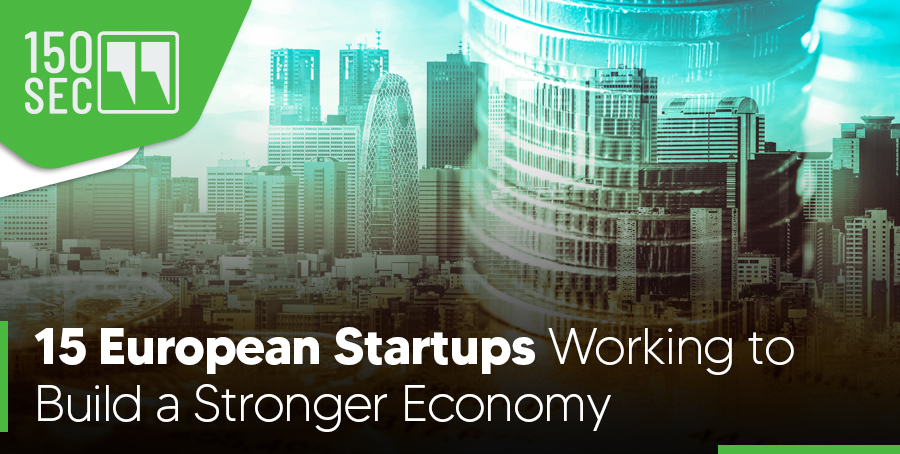 Startups
---
Early 2022 the world was rocked by Russia's invasion of Ukraine, Europe experienced skyrocketing energy and food prices whilst existential anxiety became deeply rooted. Yet, one year on from the first attack, just as Ukraine has shown remarkable and unexpected resilience in the face of the war machine, the European economy has performed remarkably well in the face of Russian hostility and the continued aftermath of Covid-19. Innovation and entrepreneurship have steered the continent from total economic downturn. In fact, one Bloomberg article cites that, " European Union officials in Brussels raised their forecast for growth this year" and went on to say that, "it would narrowly avoid a recession."
This is hardly cause for celebration yet given the context of the last year, the continent has shown an astounding ability to adapt and persevere in the face of unprecedented challenges. To acknowledge a handful of people contributing to this growth, 150sec has identified a diverse group of innovative startups adapting to the new world order and working to bolster the European economy by improving systems, services and consumer goods for countless people around the world.
---
Nerdytec
---
Nerdytec, founded by Roman Jean Charles Jakob and Chris Mut, have adapted to the growing trend of remote work with their innovative product, the Couchmaster®. This ergonomic furniture takes the home office to the next level, providing support and comfort for those who work from home. Its design promotes a healthy, straighter seated posture, improving the quality of life for all who find themselves seated for hours at a time. The Couchmaster® also doubles as a table and workstation, making it versatile for users with physical handicaps. In addition, the product allows gamers to play their favorite games on a big TV while sitting comfortably on their couch or bed.
With only 2 in 10 remote-capable employees currently working fully on-site in the US, the Couchmaster® is a timely solution for those who seek comfort and productivity in their home workspace
---
Transmetrics
---
Transmetrics, a logistics optimization company, is revolutionizing the transport planning industry with its innovative use of machine learning and predictive analytics. By combining the strengths of human and artificial intelligence, Transmetrics delivers the highest operational benefits while reducing the environmental impact of logistics.
Founded in 2012 by four consultants who noticed an issue of inefficient capacity utilization in the cargo industry, Transmetrics has grown to a team of over 35 highly-skilled employees working with renowned cargo and logistics companies globally. With over €7.3 million in funding, Transmetrics' success speaks to the importance and potential of optimizing transport planning with advanced technology.
---
Modulous
---
Modulous, a U.K. startup, has secured an impressive £10 million in a Series A round of funding. The group simplifies the design and configuration of modular homes for developers, architects, and construction firms. Founded in London in 2018, the construction startup seeks to tackle the ongoing global housing crisis which has been especially trying in their own backyard.
The company is dedicated to providing access to safe and sustainable properties to as many people as possible. On their site they elaborate that one of their key motivations is to eliminate the global housing deficit while improving industry efficiency, reducing waste, and raising quality standards.
---
Daye
---
Daye is a UK based startup founded in 2018 with a vision to innovate and revolutionize women's gynecological health. Since its conception, the company has raised a total of $17.1 million in funding which has allowed them to develop a comprehensive range of diverse and sustainable products.
Daye empowers women by providing them with high-quality, effective solutions for their menstrual and reproductive health. The company offers an array of products, including organic cotton tampons and pads infused with CBD to alleviate menstrual cramps, and a personalized subscription service that delivers period care packages to women's doorsteps. Daye's commitment to transparency, sustainability, and inclusivity has earned them a loyal following of women who trust and rely on their products for their health needs.
---
Omie & Cie
---
Omie & Cie, a French startup focused on sustainable food products, has raised over €17 million to further its mission of promoting regenerative agriculture and supporting fair compensation for farmers. The company aims to encourage better consumption habits and promote virtuous agriculture while addressing the environmental impact of food production.
Agricultural practices contribute to a third of greenhouse gas emissions, while traditional farming techniques diminish soil quality and biodiversity. Omie & Cie, which started with pre-sales on Ulule in November 2020, has now grown to around 45 employees and is gaining recognition in the sustainable food market. The company's experienced leadership team, including Coline Burland, Joséphine Bournonville, Benoît Del Basso, and serial entrepreneur Christian Jorge, have helped to propel their success.
---
JUMP
---
French fintech startup JUMP is a top software provider that specializes in investment management solutions for the financial industry. Their services cater to various sectors, including Asset Management, Private and Wealth Management, Life Insurance, Pension and Insurance Funds, Sovereign Wealth Funds, Corporates, and more.
Jump has expanded its business to include platform workers, specifically the 55,000 private hire vehicle drivers in France. They are now offering these drivers the opportunity to join their entrepreneur-salaried cooperative status for a monthly fee of €79. As part of this status, drivers will receive regular payslips and have access to social security and other social benefits that are typically reserved for employees.
Jump's cooperative status enables VTC drivers to be self-employed entrepreneurs while still enjoying the benefits of being an employee. The driver's earnings are then transferred to their Jump bank account. This is the first time a French fintech company has created a cooperative status for platform workers, and it has already had a successful pilot phase involving Uber, Heetch, and Bolt.
---
Apryl
---
Apryl is a Berlin based, leading fertility benefits provider, that offers employers the opportunity to support their employees with fertility and family planning options. Founded by Jenny Saft and Tobias Kaufhold, the company provides consultations, access to clinics, and treatments such as egg freezing and IVF, as well as adoption guidance which is subsidized by the employer. With a focus on educating employees about their choices, Apryl empowers them to make proactive decisions regarding their family planning. The company believes that everyone should have equal chances to become a parent, regardless of their age, gender, sexual orientation, relationship status, or financial means.
Apryl has secured 4.1 million euros in funding, with a primary goal of revolutionizing fertility benefits across Europe. The company emphasizes employee education and support, working to provide equal opportunities for those seeking to begin a family.
---
Nuclia
---
Nuclia, a Barcelona-based company co-founded by Eudald Camprubí and Ramon Navarro in 2019, offers a cloud-based platform for data integration, processing, and management. The platform enables users to connect and combine inforamtion from multiple sources, automate integration processes using AI and machine learning, and make data-driven decisions faster. The company has raised 5.9 million dollars in funding and provides comprehensive support to users, including training, documentation, and technical support.
Nuclia's scalable and flexible platform can be customized to meet the specific needs of businesses of all sizes and industries. The company's headquarters is based in Barcelona, and its platform helps businesses gain valuable insights from their data, increase efficiency, and drive growth.
---
Volare
---
Volare, a Finnish startup founded in 2021, aims to revolutionize the global food system through a scalable approach to minimizing waste and promoting circularity. They have raised €700k euros to support their efforts. Volare recognizes the challenges of a rapidly shrinking arable land, while protein demand is expected to double by 2050. Their technology is designed to use various side streams to create ultra-sustainable ingredients beyond protein, oils, and organic fertilizer for a wide range of industries.
Volare's fully operational demonstration plant serves customers in aquafeed and pet food industries, and this year, the company plans to build an industrial-scale plant to further increase production capacity. With plans to expand their platform to medical, textile, and aviation industries, Volare's innovative technology and vision for a circular economy position them to lead the way towards a sustainable future.
---
Zipp Mobility
---
Zipp Mobility is an Irish startup making waves in the micro-mobility industry. The company was founded in 2019 by Charlie Gleeson, a recent graduate of the University of Limerick. The startup provides sustainable and convenient transportation solutions in the form of e-scooters and e-bikes. Zipp's mission is to provide affordable and environmentally friendly transport that is accessible to all.
The company has already made significant strides towards achieving this goal. Backed by a staggering €8.2 million in funding they have become the first Irish operator to receive an e-scooter license from the Department of Transport. Zipp has since launched pilot programs in several Irish cities, including Cork, Galway, and Limerick.
Zipp Mobility's commitment to sustainability is evident in the materials used to construct their vehicles. The e-scooters and e-bikes are made using recycled materials, and they have further reduced waste by incorporating interchangeable batteries. Driven by sustainability, affordability, and accessibility, the Irish startup is poised to be a major player in the micro-mobility industry.
---
Artpool
---
Founded in 2018, Artpool is a cutting-edge platform based in Lisbon that has raised $100k in funding. The platform utilizes NFTs to showcase quality artworks chosen by top art professionals worldwide. The digital space boasts a network of over 900 verified curators and art venues, providing a venue for curators, artists, and art organizations to display, fundraise, and sell art as NFT. Artpool challenges the conventional art scene by delivering a carefully curated selection of artworks handpicked by a trusted network of professionals, streamlining the process of investing in art. In addition, the platform provides collectors with the opportunity to support art projects and artists across the globe.
Artpool capitalizes on the potential of web3 to offer both amateur and experienced collectors an alternative way to navigate the art world. The platform leverages the expertise of experienced curators to help collectors make informed decisions when it comes to investing in art. Artpool is a promising solution to the challenges of conventional art collecting and offers a fresh perspective on the art world.
---
Ellure
---
Ellure, emerged from Stockholm in 2019 with the goal of empowering brands and retailers to create customized fast moving consumer goods that are both environmentally friendly and loved by customers. The firm takes a unique approach by personalizing traditional production processes and making them on-demand, resulting in quality products that eliminate excessive waste. Ellure contends that economic growth and sustainability can coexist by offering affordable customization.
By using its mass-personalization process, the company provides a simple method for testing the value proposition and scalability of tailored products. To validate the technical and operational feasibility while remaining close to the market, Ellure launched Ellure Lipsticks, a D2C brand.
---
Tempo
---
Tempo is a digital money transfer company that is dedicated to making it as convenient as possible to send money worldwide. The startup is licensed by the French regulator ACPR, BdeF and powered by the latest technologies, including Stellar blockchain. Their mission is to make money transfers accessible to everyone regardless of their nationality or location.
The group is focused on digitalization and has developed an online money transfer platform that allows clients to send and receive money within a few clicks.
The startup aims to reduce transfer costs by offering reasonable rates and quality service. They are constantly expanding their partner network worldwide to reduce transaction fees for their customers.
To further reduce costs, increase speed, and reliability, Tempo has partnered with Stellar Foundation. The company is dedicated to offering the fairest rates overall and ensuring that customers save money with every single transfer.
---
Quickblox
---
QuickBlox, a London based startup, is a communication solution provider that specializes in chat API services, offering real-time remote communication between parties. With the increasing need for digital communication in all areas of life, QuickBlox is committed to developing easy-to-use, affordable, and secure communication solutions that enhance user experience. Their complete communication backend includes instant messaging, group chat, video calling, streaming, file sharing, and more accessible through SDKs and APIs.
QuickBlox's software is designed for multi-platform use, enabling developers to integrate communication features into their pre-existing apps without having to build the entire infrastructure. They invest heavily in data security, providing secure hosting options for tightly regulated countries and industries like healthcare and finance. QuickBlox is GDPR and HIPAA compliant, ensuring optimal security for the storage and transfer of customer data. QuickBlox is a reliable provider for businesses, communities, and individuals around the world who require responsive real-time connection.
---
Solvv
---
In the past couple years podcasting has exploded in popularity, one Forbes article cites that in 2023, in the US alone, there are, "5 million podcasts with over 70 million episodes available."
In response to this boom, Solvv has arrived with a social podcasting app that allows hosts and panelists to come together and answer unique questions in 15-minute panel-based podcasts. This system aims to create a space for diverse individuals, thinkers, growth-seekers, and humans to go beyond social networking to create, "Solvv", and grow together.
Solvv is structured to always have 15-minute recordings, one host, 1-4 panelists, one question, and always equal speaking times for panelists.Solvv is available for download on the mobile app or through their website.
Disclosure: This article mentions clients of an Espacio portfolio company.