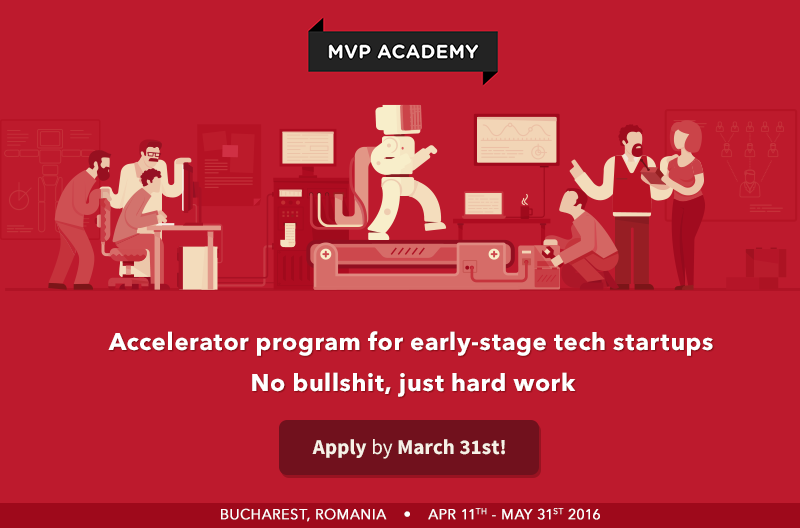 ---
MVP Academy is a Romanian accelerator program that helps tech entrepreneurs refine their products, bring them to market, generate sales, and raise money. All these by offering product and business consultancy, access to an international network of 400 mentors and 700+ startups, a funding pipeline, recruitment opportunities and training.
13 of the 28 startups accelerated so far have launched their products on the global market, and the alumni have raised more than 1 million USD in seed funding to date. At early stage, the main sources of funding remain angel investors and accelerator programs (each one having a share of 40% from total investments), while the other 20% are raised from VC funds.
InnerTrends, startup that helps web and mobile developers optimise their user acquisition process by better understanding user behaviour; Clepsisoft CyberFog, a proactive cyber-security solution that helps companies deflect cyber attacks; CloudHero, a PaaS that automates the management and scaling of an application across any public cloud; Gloria Food, free online ordering systems for restaurants, now available in 25 languages and having a 600+ network of active restaurants; SafeDrive, mobile app that encourages responsible driving by rewarding drivers that do not use their phones; or Axosuits, affordable exoskeletons for people with disabilities, are part of the MVP Academy alumni network. More details about the progress of the alumni are available in the follow-up report.
MVP Academy continues with its third edition. Tech startups with global potential are invited to submit their application by completing the form available online at www.mvpacademy.co. The program takes place in between April 11th – May 31st at TechHub Bucharest, and the selected teams will attend product, sales & marketing workshops, individual mentoring & coaching sessions, and will get the chance to close strategic partnerships while connecting with an international network of 400 mentors and 700+ startups. Moreover, some of the best teams that will be part of MVP Academy batch of 2016 will have the opportunity to raise an average seed investment of 50.000 EUR in exchange for a minority stake in the company from MVP Angels, angel investors network associated with the program.
The startups will be selected by an experienced jury taking into consideration the team fit and experience, the market size & trends, the market validation & traction, international potential, impact and the overall feasibility of the product. The judges are Robert Knapp (Co-Founder & CEO, CyberGhost); Cosmin Ochișor (Business Development Manager, hub:raum); Mihai Sfințescu (private equity/venture capital investor); Carmen Sebe (angel investor); Bogdan Iordache (Co-Managing Director, MVP Academy) and George Diță (Co-Managing Director, MVP Academy).
"We are looking for startups that think big and have the capacity to execute and learn fast. The only advantage of an early-stage startup is its speed and we expect our teams to use this advantage when building their product and learning from the interactions with customers", said Bogdan Iordache, Co-Managing Director, MVP Academy.