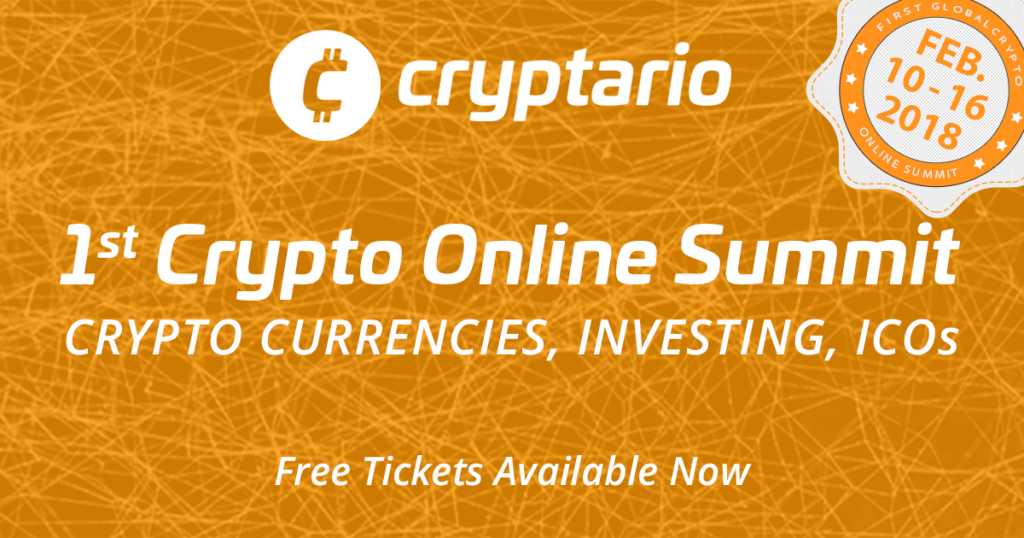 ---
Those wanting to understand the increasingly complex world of cryptocurrencies and blockchain need not look further as the world's first crypto online summit launches this week.
International experts are set to explain everything from Altcoin to ASIC mining in the 7-day conference, which will be solely online.
The event is being hosted by Cryptario – a global initiative to educate the broad masses on the opportunities and risks associated with using, buying and investing in digital cryptocurrencies.
Cryptario's host Dr. Florian Kandler will interview world-renowned experts to not only reveal insider tips and tricks on the subject, but also give an outlook on the great financial potential of digital means of payment in the form of cryptocurrencies and their future development.
"Cryptocurrencies and Initial Coin Offerings are now experiencing an incredible boom," said Florian Kandler, co-founder of Cryptario.
"It is our vision to reduce the complexity of the subject and make the opportunities and risks of this dynamic development understandable and tangible for everyone – easily explained by some of the world's leading experts on this topic."
Over 25,000 people are expected to participate and will have the opportunity to experience valuable specialist knowledge on cryptocurrencies combined with hands-on tips on how to apply it in the real world from their own homes.
Some of the speakers at the summit will include:
Stephen DeMeulenaere (CAN), has been developing and helping to implement alternative currencies in various regions of the world for more than 25 years. In his talk he explains why crypto-currencies in particular have helped the development of "alternative currencies" and what the risks of current cryptocurrencies are.
David Siegel (US/UK/CH) has successfully raised over 20 million with an ICO himself. He is the author of an insider report widely used in the scene, the "ICO Handbook". He also speaks on conferences worldwide and reveals the difference between good and bad ICOs. Thus, it highlights the opportunities and risks of ICOs – both for investors and for startups.
Oliver Völkel (AT) is a specialized lawyer for ICOs in German-speaking countries and has accompanied all top ICOs in Austria. He and his law firm are the reason why Austria is already being discussed as a "good country" for ICOs. In his interview with Cryptario he explains possible tax and regulatory traps and their potentials.
Philipp Giese (GER) is chief analyst for cryptocurrencies at BTC-Echo, the major German Crypto News platform. He gives insights into how to analyze cryptocurrency prices, charts and how to interpret the current sharp decline in the bitcoin price.
The Cryptario Online Conference will take place from February 10 to 16, as a 7-day online event.
Currently, there is a possibility to register for a free ticket (regular ticket price: €197). With the free ticket, the expert interviews are available for 24 hours.