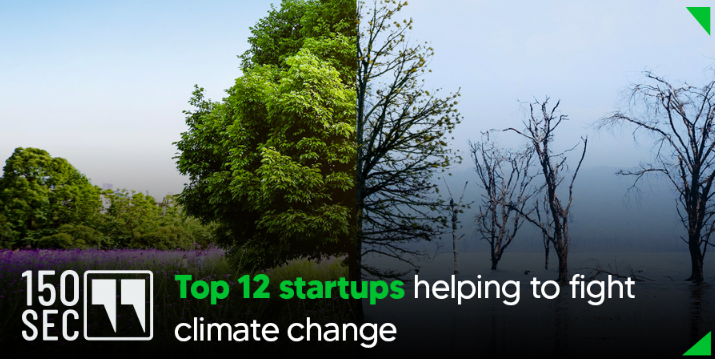 Featured
---
Pollution is one of the greatest environmental threats to public health globally alongside climate change. In fact, household air pollution, PM2.5, and ozone pollution account for the fourth-leading health risk factor worldwide, causing 11.2% of total deaths.
This is only exacerbated by rising temperatures, which have been increasing by 2 degrees Fahrenheit since the Industrial Era. Increased heat means increased ground-level ozone smog, which is created when pollution from cars, factories, and other sources reacts to sunlight and heat. According to the Natural Resources Defense Council, the hotter things get, the more ozone smog we have. And with Europe just having its hottest summer in recorded history, people should be aware of this pressing matter.
This past September 7th was the International Day of Clean Air for Blue Skies, a day designated by the UN to raise awareness about air pollution and the risks that come with it. The day is designed to stress the need for a cooperative effort in addressing the pressing burden of air pollution that is driving climate change and affecting people's health across the globe.
European business regulators and policymakers now seek resilient and adaptable business models and action toward sustainability is now at the forefront of many companies' discussions. Let's take a look at some of the most environmentally friendly startups that are helping fight climate change through their initiatives and how these changes will impact consumers.
---
Buildings make up more than 30% of the global carbon footprint but because every building is unique, energy-saving technologies have lacked in their ability to scale. HawkenAQ is an air quality monitoring and building health solution for schools, offices, and commercial buildings.
HawkenAQ is contributing to improving indoor air quality by innovating through technology in an industry that is overdue for evolution. The company is already present across the US and UK, and has already been implemented in some of the biggest school districts and public spaces.
They eliminate the days or weeks of integration time that was required in the past to upgrade through their system that installs in less than 15 minutes and is compatible with any building worldwide. Their unified platform is capable of turning any building into a smart building, making buildings both healthier in their indoor environment and more energy efficient.
---
Combustion engines are a big cause of pollution, in fact, In one year, the average gas-powered car produces four tons of carbon dioxide (CO2). To solve this increasingly dire environmental problem and as an alternative option to the traditional motor system, zero-emission vehicles have been on the rise.
Although this has led to less energy being wasted and no air pollutant emissions, one of the challenges of electric vehicles is the accessibility consumers can have to power stations. As stated in a brief by the European Environmental Agency, if by 2050 most cars were electric in the European Union, then electricity consumption would increase by 10%—meaning that the electricity grid infrastructure would have to evolve drastically in order to meet the demand.
CyberSwitching, a power management company that manages charging points for companies looking for green solutions, is stepping up to the challenge. The company offers green energy solutions to help customers dramatically reduce their electrical costs, thereby making it more approachable for businesses to install EV charging stations.
They promote the development of EV charging solutions that increase sustainability and independence from fossil fuels. CyberSwitching, which owns more than 20+ patents, is the main supplier of well-known brands such as HP, Cisco, Foxconn, Intuitive, Adobe, Ford, and many more.
---
After a couple of years of taking cleaning standards to a whole new level, the cleaning products industry experienced an uptick in sales—a phenomenon that will most likely stay with us for a while. Alongside a surge in demand, the ingredients of cleaning products have also been opened up to conversation, with their impact on the environment and people's well-being at top of mind.
In the United States, companies that make household cleaning products aren't required by law to print a full list of ingredients on their packaging, allowing them to continue offering products with "forever chemicals" that don't break down in the environment and contaminate it without notice. Viking Pure was created with the mission of providing safer, cheaper, and infinitely more powerful products than the harmful chemicals most commonly used today.
The company generates non-toxic, on-demand cleaning and disinfecting solutions for facilities in healthcare, senior living, education, and more. The disposal of Viking Pure's products is environmentally friendly with no further contamination—allowing consumers to get the best from a cleaning product without any negative consequences on the environment.
---
With over 15% of global GDP and jobs tied into the supply chain, which is responsible for 25% of global greenhouse emissions, sustainable retail should be at the forefront of the climate change discussion. On the positive side, retail executives are acknowledging the problem and are setting targets to reduce carbon emissions.
One of the most important steps retailers need to take is to first understand what their carbon footprint is and then calculate the costs of implementing a clean strategy. A German startup is doing just that and helping fashion retailers to measure, monitor, and reduce their carbon emissions.
Vaayu was founded by Namrata Sandhu, sustainability and environmental expert with over 17 years of international experience building, developing, and implementing sustainability strategies across businesses. Vaayu has a carbon modeling engine that uses machine learning to simplify and automate carbon calculations for businesses. The company also offers ways in which businesses can reduce carbon and become carbon neutral.
Currently, the company works with world-known brands including Armed Angels, Organic Basics, and Missoma.
---
The global online food delivery service is expected to reach $192.16 billion by 2025, a trend following the spike in demand experienced during the pandemic. While the service is convenient, to say the least, the carbon footprint coming from cars, unsustainable packaging, and food waste are some of its downsides. With nearly 80% of deliveries today being done by car, numbers for urban deliveries alone will rise by 30% if order growth continues as it was projected pre-pandemic.
One company, Kiwibot, is helping change that. Kiwibot is the largest robotic last-mile delivery network, aiming to create a world where technology, logistics, and delivery are for all. One of their business fundamentals is sustainability, and each delivery by Kiwibot saves around 1,000 grams of Co2.
The company has been launching its robots on different campuses across the United States and as stated by Felipe, their Co-Founder: "By using robots, every delivery on campus will have zero carbon emissions, helping reduce students' carbon footprints and making delivery services as sustainable as possible."
---
The global logistics industry has been responsible for numerous environmentally degrading activities, including but not limited to noise pollution, increasing CO2 emissions, and waste. Non-efficiency does not only mean monetary costs for companies but huge ones for the environment as well. This is why businesses are urgently being called to shift to sustainable practices when it comes to the shipment of their goods.
Transmetrics, a European state-of-the-art AI platform optimizes transport planning by leveraging the power of predictive analytics and machine learning. The company combines the strengths of humans and AI, ensuring the highest operational benefits while reducing the environmental impact of logistics.
The company aims to have a significant impact on the reduction of CO2 emissions by streamlining and optimizing transportation networks across different countries in Europe and Asia, helping the global shipping and handling ecosystem to become more optimal as a whole.
---
With pressing climate change issues, "investing with a purpose" hasn't seen stronger growth. Investors are on the lookout to make money while also finding ventures that help to leave a positive impact on the environment, which explains why the global sustainable finance market size is projected to reach $22485.6 billion by 2031.
Datia is a Swiss fintech that was founded in 2019 and launched in 2020 with the mission of supporting investors' transition to sustainable finance. Since its launch, it has raised $3.4m in seed funding and now has over €110B of assets under management.
Some of the tools its app features are ways to access data on gender pay gaps, funds and companies' energy usage, and businesses' carbon footprint. The company aims to accelerate sustainable investments with the help of platforms, wealth advisors, asset managers, and advisors. With a large collection of data and a clear structure, Datia creates portfolio-level calculations thanks to its regulatory reporting and screening.
---
According to the World Health Organization, between 1998 and 2017 wildfires and volcanic activities impacted more than 6 million people worldwide. On top of the danger they signify for humans, they also have negative consequences on the climate.
Wildfires release large amounts of carbon dioxide, black carbon, brown carbon, and ozone precursors into the atmosphere, having huge impacts on the climate on regional and even global scales. Not to mention wildfires also destroy carbon dioxide absorbing and oxygen releasing trees on a massive scale.
Dryad, is a German startup that offers technological solutions that protect natural resources with a symbiosis of nature and technology. The company aims to detect wildfires and monitor and protect forests with solar-powered sensor technology and cloud-based big-data tools used for analytics.
Even though its focus is to provide a large-scale IOT sensor network to mainly monitor forests, its technology can also be applied to other ecosystems including lakes, rivers, and oceans.
In August, the company closed a €10.5m in Series A Funding led by eCAPITAL and additional investors, including Toba Capital, Semtech, and Marc Benioff's TIME Ventures with the goal of accelerating its growth and expanding internationally.
---
With sustainable lifestyles on the rise, consumers want to be better informed on products they are buying and what the impact of that purchase is on the environment. According to a study conducted by Deloitte this year, there's still a lot of progress to be made on giving consumers greater access to information on where to find options that are sustainable and budget-friendly.
Unspendr is a startup that aims to do just that. The company was founded in 2021 by Galina Dvoretskaya, an AI and mathematician expert, with the goal to offer online recommendations with unbiased opinions that will help people buy and consume in a responsible way.
The company's website offers opinions ranging from places like restaurants and supermarkets to skincare brands and clothing stores. The platform also allows you to share your favorite responsible places with the community and hence contribute and support businesses on their sustainable journey. The company is also building a local platform in Boston, US, and Barcelona, SP.
---
Out of the many ways of generating energy, solar energy is one of the most environmentally friendly. A sustainable and renewable energy source that is increasingly becoming more available to people around the world, Each kilowatt-hour (kWh) of solar that is generated significantly reduces CO2, sulfur oxides, and nitrogen oxides emissions among others. Aside from working from everywhere and the capacity for huge cost savings—this source of energy, saves water and doesn't generate noise pollution.
Zolar, a Germany-based startup offers solar power systems available for purchase or rent. Zolar was born in 2016 as the result of a trip where its Founder, Alex, traveled around South America and witnessed shrinking glaciers, dried-up rivers, and the overall consequences of climate change. This inspired Alex's urge to do something about it and his more than 10 years of experience in the solar energy industry led him to create Zolar.
The company provides solar power systems, helping customers from planning all the way to installation. Their design is based in the potential offered by roof surfaces of single-family and semi-detached houses for solar modules, with the goal to make energy supply completely sustainable and renewable. Some of the benefits include independence from the grid operator, lower electricity bills, and a personal contribution to climate protection.
Last May, Zolar received €20 million in a Series C funding led by Energy Impact Partners and GIC bringing its total funding to date at €59 million. Zolar's funding will be used to fundamentally simplify access to green energy for homeowners, reduce the shortage of skilled workers, and promote German independence from oil and gas.
---
Iggy, Cervest's Founder, was running a sustainable agribusiness in West Africa when the idea of "Climate Intelligence" was born. She saw that most people believed climate disasters were some kind of freak event and that was the starting point for the company. Alongside science experts and with machine learning at the core, Cervest was created—a cutting-edge framework for quantifying asset-level risk on a global scale.
Cervest's climate intelligence platform allows companies to assess climate risk down to the asset level. A combination of peer-reviewed data, data modeling, and machine learning, it is able to provide past, present, and future insights into climate risk, and its impact on assets and your portfolio. The company allows businesses to make decisions and spot where growth opportunities are, while also pinpointing vulnerabilities.
The company, which was founded in 2015, is located in London and has raised €27 million to date, an important step towards its international expansion.
---
According to the European Environment Agency, CO2 is the main greenhouse gas emitted by the road transportation sector, accounting for nearly 99% of all GHG emissions. With Europe's goal of reaching carbon neutrality by 2050, the sector is going to need to make drastic changes.
Trucks accounted for 23% of CO2 emissions from road transportation in Europe in 2019 even though they made up less than 2% of the vehicles on the road in Europe.
Volta Trucks is stepping up to the challenge and addressing the problem of CO2 in trucks. With their fully electric trucks with zero-emission powertrains, they eliminate the pollution that traditional trucks would cause, helping to mitigate their negative impacts on climate change and air quality issues.
The Swedish company was founded in 2019, and since has raised a total of €60 million with the goal to continue expanding in Europe.
Disclosure: This article mentions a client of an Espacio portfolio company.