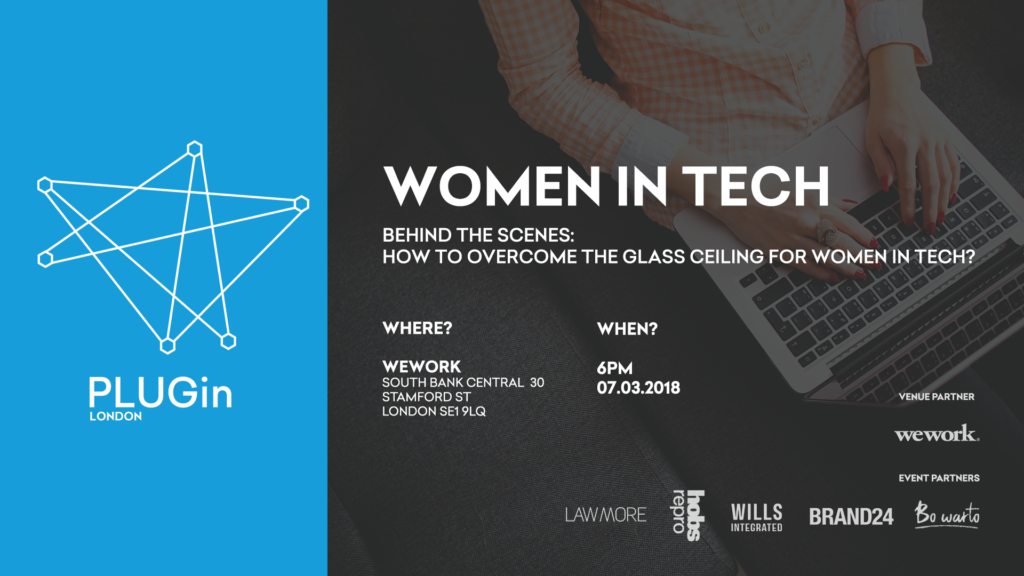 ---
According to Fortune, only 6.4% women in the Top Fortune 500 companies enter C-level management.
Many studies show that the "glass-ceiling" phenomenon – a seemingly impenetrable barrier for women's careers to the top – is a fact. When this phenomenon became apparent over the last 50 years, companies started paying more attention to gender equality in business. Especially in the most male-dominated sector – technology.
A case in point is the annual Women Startup Competition (WSC) in Cluj-Napoca, where a female-led Romanian coding startup has won the second semi-final round.
As part of International Women's Day celebration, PLUGinLONDON wants to discuss whether the glass-ceiling is still a fact, how it is tackled, and what can be done to further reduce gender inequality in technology businesses.
Lady-panelists from a range of companies and backgrounds are joining in the discussion, including Giselle Frederick, Founder of Zingr, Alexandra Fernandez, Market Development Director at BBVA, and Lisa Grahame, CTO at Global Processing Services. The discussion will be moderated by Marta Krupinska, GM & co-founder of Azimo.
The organizers for the event are PLUG Polish Tech Link – a group created to integrate Polish tech and startup community in the UK as well as to foster mutual business relations between the UK and Polish technology companies and mutually introduce the movers and shakers of both Polish as UK tech scenes. This is an opportunity to meet Polish startups, VCs, people working in leading Polish and British tech companies, mentors, coaches and many more.
The venue partner, WeWork Labs, is an incubator program for early-stage startups. They provide members with guidance, resources, dedicated services, and above all, a highly collaborative engaged community. WeWork Labs members have access to a vast network of advisors, mentors and investors to help your startup grow.
Doors will open at 6.00 PM with the event will kicking off at 6:30 PM with a welcome from Chapter Head & WeWork. The event will finish at 9.00 PM after which it will move to The Fountain & Ink (52-54 Stamford St, London SE1 9LY, UK) for an after party.
Tickets are available here, and if you want to join the team or become a partner, get in touch.