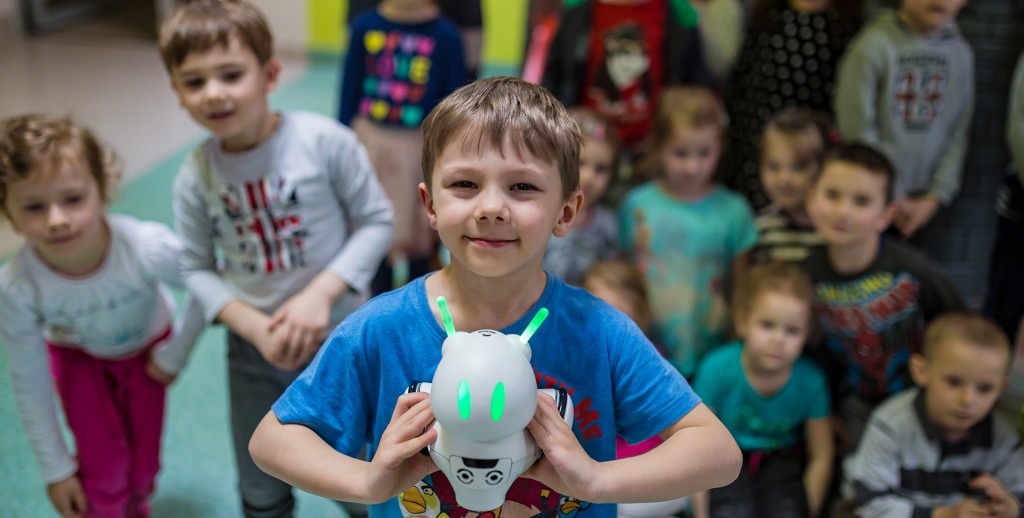 ---
In October 2014, a group of enthusiasts from Białystok (North-East Poland) experienced in programming and robotics wanted to run in the Imagine Cup competition. They knew they wanted to work on hardware. After several brainstorming sessions, a decision was made to focus on a project which will not only provide entertainment but also solve a social problem. They realised that they themselves had started their adventure with programming too late. They also saw that even though children do spend lots of time in front of computers, they do not seem to be doing anything valuable for their skills development. That is why Photon was brought to life: to bridge this gap by inviting children to have fun while teaching them to code. Photon's mission is to change the way children use modern technologies – they want them to use technology in a way that will create a positive impact on their development and their future.
Who is Photon? Photon is a very friendly robot which has been travelling in space. That is how he described one of his adventures: "When I was travelling to Earth, I had an accident – I was hit by an asteroid. My craft broke and the pieces of it scattered all over the world! Now children are helping me to find them. During the journey I meet many characters that have found missing pieces before me. It's not easy to get them back – I need to solve some riddles first.". This explains why kids need to help Photon. They play with the robot to help him while learning how to code. Every time they solve a riddle, a new feature is enabled, which lets the robot evolve with its owner.
https://www.youtube.com/watch?v=xXwdyJKQN60
Even though no Photon has been sold yet, the team has received many awards on a local, national and international level, including: Winner of 1st place in World Citizenship of Imagine Cup competition, Silver medal of Grand Prix Innova Brussels and Winner of the Special Award for the Best Technological Invention of The National Research Council of Thailand.
[easy-tweet tweet="Meet @Photonrobot: the #robot that teaches your kids how to #code" user="150sec" hashtags="CEEmakers" url="http://goo.gl/BqVLb7″]
Photon is soon to enter the market in Q4 this year. However, yesterday on the 31st May at 7 p.m. its crowdfunding campaign started. Within the first 12 hours they managed to reach 25% goal of funding as well as made it to top 5 projects on Kickstarter! If you want to change the way kids learn, go support them. You can check out the campaign and pre-order this friendly robot on their Kickstarter page.