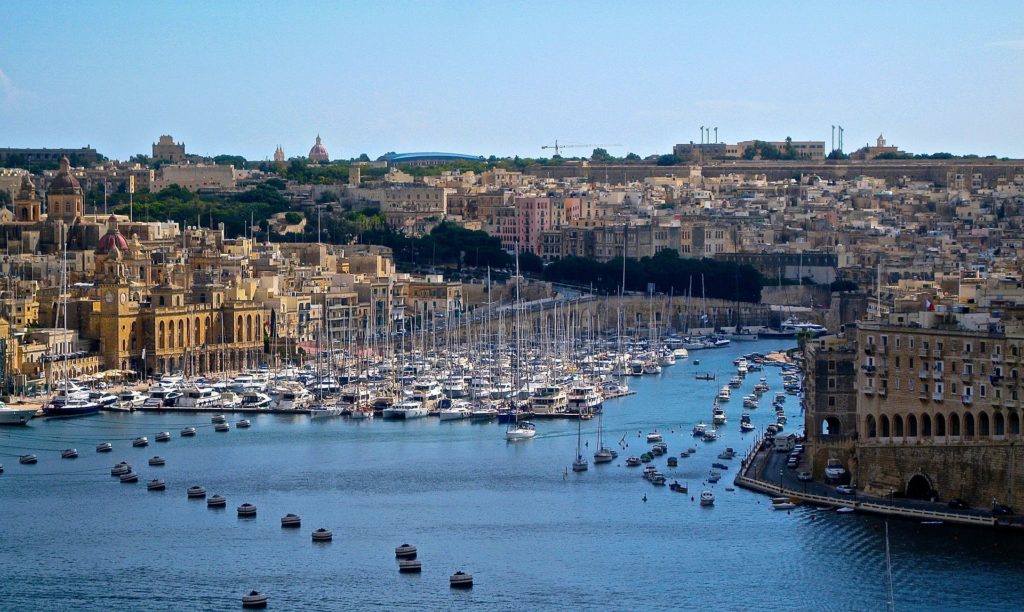 Cryptocurrency & Blockchain Technology
---
In September 2018, the Prime Minister of Malta, Joseph Muscat, addressed the General Assembly of the United Nations in New York. He delivered a passionate speech about the challenges that will face the nations in the years ahead. Focusing heavily on technology, he also launched — for the first time on the international stage — the notion that the tiny European statelet, would make a name for itself as the 'blockchain island'. 
"Blockchain makes cryptocurrencies the inevitable future of money … but these distributed ledger technologies can do much more," Muscat stated.
Establishment of a Blockchain Tech Hub
On July 4  last year, the Maltese government passed three bills through parliament in order to set out a regulatory framework for blockchain technologies. At the time, Malta's Junior Minister for Financial Services, Digital Economy & Innovation, Silvio Schembri, tweeted that Malta had become the first world jurisdiction to provide the space with legal certainty. 
One of the world's largest cryptocurrency exchanges – Binance – announced plans to move to Malta in March of last year. The move came following a warning which the company received for operating in Japan without approval from the local regulator. At the time, Binance CEO Zhao Changpeng told Bloomberg that "Malta is very progressive when it comes to crypto and fintech".
Maltese Minister for Transport, Infrastructure and Capital Projects, Ian Borg, put the Mediterranean country's approach in context following the announcement of a strategic partnership with Omnitude – a British blockchain platform, which will assist the island nation in improving its public transportation network. "Blockchain technology is a key part of our overall national technology strategy that will see us transform different sectors across government," he said.  
The fruits of such a progressive regulatory environment continue to be evident. Recently, former Apple co-founder, Steve Wozniak, established a blockchain-based company – Efforce – in Malta. Wozniak praised the regulatory regime in Malta, calling it "brave and bold" whilst clarifying that in Malta the company had found the best country in the wWorld in terms of an open-mindedness to new technology. Efforce also purported to offer a blockchain-based platform geared towards investment in energy efficiency with tokenized energy savings.
Within the EU, only Lithuania offers any competition for Malta in becoming a hub for blockchain startups. The difference lies in the approach. Lithuania tends to have a greater focus on fintech startups generally with one of the largest numbers of e-money licenses and licenses for specialist banks issued whereas Malta is more specifically focused on blockchain related enterprises.
"Blockchain technology is a key part of our overall national technology strategy that will see us transform different sectors across government."

Ian Borg: Maltese Minister for Transport, Infrastructure and Capital Projects
Outside of the EU, Singapore and Zug, Switzerland are attempting to establish themselves as international hubs for blockchain-based businesses. At a U.S. Senate Banking Committee hearing on regulatory frameworks for cryptocurrencies and blockchain technology last week, expert witness Rebecca Nelson (a member of the Congressional Research Service specializing in international trade and finance), identified Singapore and Zug alongside Malta as the pacesetters internationally in establishing proper regulatory frameworks for the technology. The hearing — alongside others recently held in relation to Facebook's digital currency, Libra — underscored a recognition amongst legislators in the U.S. that they were losing competitive advantage to places like Malta as a consequence of their unfriendly regulatory regime.
Establishment of Security Token Trading
Last month, Malta's Financial Services Authority (MFSA) published a consultation paper on Security Token Offerings (STOs). The proposed policy sets out to consider the evolving needs of capital markets whilst maintaining standards of market integrity and investor protection. This paper follows on from the MFSA's Fintech Strategy and Virtual Financial Assets Framework which was put in place last year. It seeks to provide a legal basis to bridge the gap between traditional securities and tokenized securities.  
Similar to Binance, global cryptocurrency exchange OKEx has also based itself out of Malta. Last year, the company signed a Memorandum of Understanding (MoU) with Malta Stock Exchange (MSX) with a view towards establishing a security token trading platform named OKMSX. In recent days, OKEx has confirmed that the new platform has applied for an investment services license and expects to be operational by Q1, 2020.  
A Strategic Approach to Blockchain Tech
Malta's approach to blockchain doesn't end there. The Prime Minister has referred to the potential of blockchain technology when it comes to health records and voting systems. Last year, the University of Malta partnered with Malta Information Technology Agency (MITA) in establishing a blockchain scholarship fund. That fund was accessed earlier this year, in support of students researching distributed ledger and blockchain technology in the context of a broad spectrum of traditional disciplines.  
In another first, earlier this year Malta became the first nation to put the educational certificates of Maltese citizens on the blockchain. The University of Malta has also commenced a masters program in distributed ledger technology and blockchain – one of the first of its kind.
Smaller nations are more agile when it comes to new technologies and providing the right conditions for growth through progressive regulation.  Malta has definitely set itself apart in this regard when it comes to blockchain technology. However, the inter-nation competitive landscape remains challenging and Malta will need to continue on as it started to stay ahead of the game.  
Whilst the Mediterranean island has attracted blockchain-based companies, there are still issues with many startups struggling to gain access to banking services on the island. Additionally, a more sympathetic regulatory regime can sometimes attract bad actors. Last month, the MFSA issued a warning with regard to a cryptocurrency-based investment entity which purports to operate from Malta on an unlicensed basis and regarded by many as a ponzi scheme. Notwithstanding these challenges, the island nation with a population of less than half a million people is certainly punching above its weight when it comes to the blockchain sector.