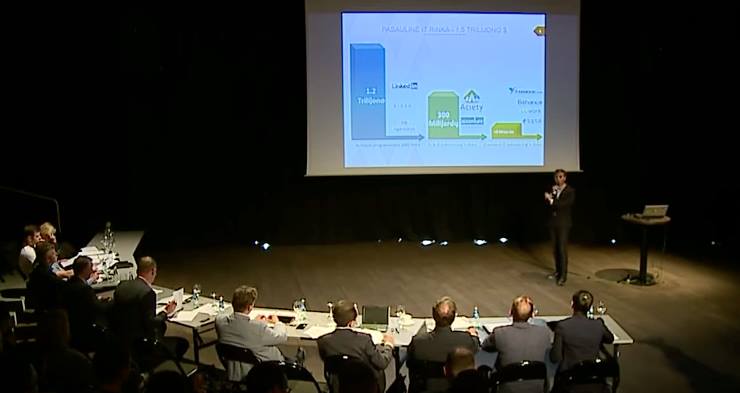 ---
Shortage of IT workers in western european countries became a headache for many companies. Many talented young developers are rather getting into the startup hype rather then sitting in big corporation offices. But what should big companies do if they want to stay in the game? Many are starting to look into building remote teams. And here Lithuanian startup Aciety comes into play. 

Aciety takes the task connecting mainly western European or US companies with the abundant Eastern and Central European IT workforce. It works like a search platform where the company can search by itself on the platform, however in order to see the full portfolios, they has to register. Then, Aciety team checks the registered user and decides if they approve the account. Once that is done, the company can freely search the full results. Should there be a need, Aciety can also help in finding the right people from the very first time. If all is good and set, the company signs a contract with the team or single developers that were found and then both sides work directly with each other. Sounds familiar? Sounds like outsourcing? Yes and no. World Economic Forum Global Shapers Vilnius calls it outsharing instead of outsourcing .
So whats the difference?
Aciety specialises in finding "long-term b2b "marriage" solutions as opposed to temporary "one night stands". Outsourcing is mainly associated with companies looking for a cheap workforce and normally low trust level towards the work that needs to be done. The difference with Aciety is that the founders of this movement are promoting a better way of working together. Famous saying is "If you pay peanuts, you get monkeys", therefore instead of outsourcing the projects for an invisible team, outshare the work with your remote partner.
It's a mindset of having an equal teammate, who understands the whole picture, reads between the specification lines and pro-actively comes up with solutions, driving real value as opposed to simple features.– says Tomas Pagirys, co-foudner of Aciety.
All this was made possible using different methodologies like temporary relocation to get into companies culture, constant communication between the team and the true effort of putting added value to the relationship instead of another outsourced project.
And so far, outsharing is picking up nice attention from weforum.org, Forbes and many Lithuanian Economic conferences.
Last week Aciety became on one of five winners of Startup-Kaunas competition and shared the total prise of 100 000€ (Lithuanian source).
[easy-tweet tweet="It's outsharing instead of #outsourcing and comes from #Lithuania based @Aciety" user="150sec" hashtags="CEEmakers" url="http://wp.me/p6MtIQ-16z"]
At the moment, the startup has built a network of top software companies mainly based in Lithuania, Ukraine, Poland and few from Romania and Bulgaria. The future goals of Kaunas, Lithuania based team  is to make the Aciety network much wider and build even stronger partnerships between west and CEE region.
More details about the projects their partners can cover, available programming languages or maybe even to join their growing network visit www.aciety.com