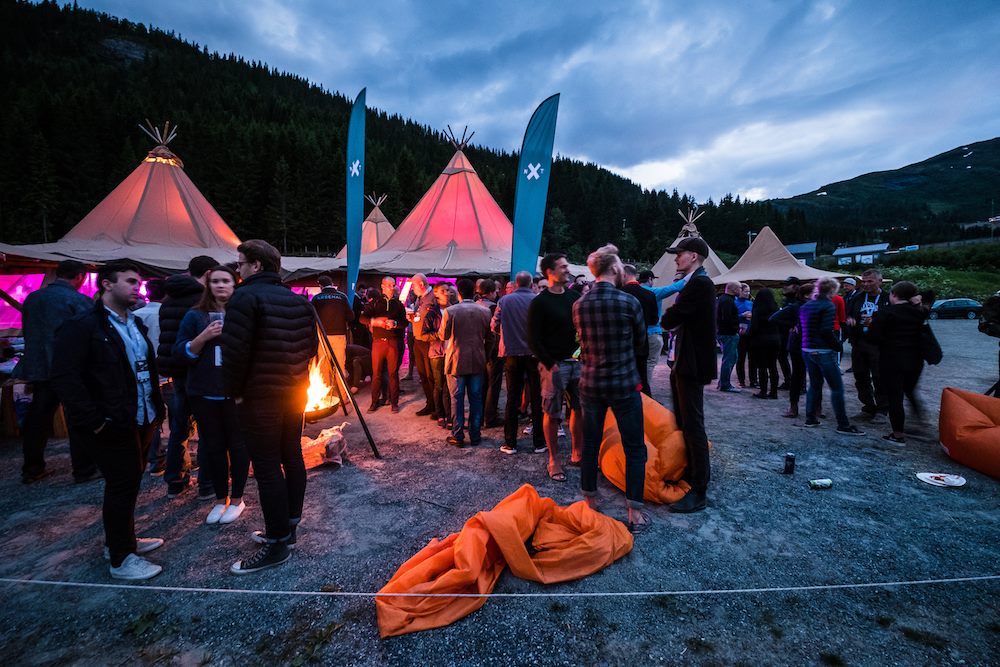 Events
---
While some of Europe's larger tech startup events offer unrivaled content, speakers and entertainment, much is left to be desired in an area that founders arguably value the most: networking.
According to the latest State of European Tech report by London-based venture capital firm Atomico, "53% of all tech-related meetups [that's Meetup.com] in Europe now happen outside of the top 20 hubs in the region, up from 42% in 2014." As the number of smaller startup events increases across the continent, founders are left with the burden of choosing the right event to accomplish their networking goals.
We've sifted through Europe's top tech events and tossed aside any with dull cocktail mixers or lame speed networking sessions. The following three networking events for startups are designed to create shared experiences and, hopefully, lasting relationships in the most creative ways possible.
For adrenaline lovers: Startup Extreme
What better way to establish a fast friendship than to have a meaningful conversation on an hour-long train ride from Oslo to Voss in Norway? Well, perhaps it's to cap that scenic journey off by jumping out of an airplane, rafting down the Stranda river, or rappelling down a waterfall with your new friend!
Startup Extreme, an event created by Startup Norway in 2015, brings together founders, investors and ecosystem influencers from around Norway and beyond, in order to create lasting relationships through a love of the outdoors and extreme sports.
Investors, startup founders, corporate representatives, tech ecosystem leaders and press in attendance have the option to take part in outdoor activities. These include rafting, whitewater kayaking, climbing, hiking, mountain biking, waterfall rappelling, tandem paragliding, tandem and skydiving.
"All the activities Startup Extreme offers are awesome," Craig Corbett, Principal at PR firm Publicize and 150sec Chairman told us. "But for a chance to make real connections with the people on the trip, I found that the hiking was the most suitable, as it provides the opportunity to speak with and get to know people on a deeper level."
Bjørn Lapakko, Head of Program and Operations at Startup Extreme, described the event as "48 straight hours of contact with the other high-level investors, founders, ecosystem influencers, and press attending Startup Extreme," in a post he wrote on Medium.
"No other European conference I've attended provides this level of access in an environment tailored for authentic relationship building," he added.
In addition to a great networking experience, Startup Extreme also provides founders with live music, food, and presentations from investors and other special guests.
For the more open-minded: Freedom X
The internet has granted a generation of entrepreneurs and employees the freedom to roam the world while they work. Freedom X, now in its third year, embraces this. It's a roving, multi-day event for entrepreneurs and digital nomads to come together and learn, network and recharge. Sessions on offer range from startup talks, to networking advice, yoga and dance classes.
Launched in Budapest, Hungary in 2017, and held in a remote village in Spain's Pyrenees mountains in 2018, this year the festival is sticking to its free-spirited roots and holding a vote for fans on where the 2019 edition should take place.
While Freedom X does not offer startup founders much in the way of contact with investors, one big advantage it offers is the opportunity to meet potential talent.
"It's easy to meet people when you're relaxed and having fun," George Chilton, co-founder of Hubbub Labs, a Barcelona-based content marketing startup, told 150sec. "I still talk with dozens of people I met at Freedom X, though one person stands out. After briefly talking with a Bali-based Italian writer, we discovered I had done a language exchange with her school when I was a teenager. We were former school mates and had been taught by the same teachers!"
Aside from opportunities to network with potential employees or freelancers, the far-flung venues of Freedom X conferences also help to draw an eclectic crowd. "Most of the conferences I've ever been to have taken place in a hotel or events center," said Chilton. "This one took place in a farmhouse in a field, in the middle of the Pyrenees mountains in Spain."
"Aside from the location, the range of attendee profiles was vast. I met founders, investors, freelance digital nomads, dance teachers, and even Brazilian shaman," he added. "There were workshops – from salsa to content marketing, panel discussions, a silent disco and paddle boarding … unforgettable stuff!"
For VIP treatment lovers: Tech Open Air Berlin

Twenty thousand technology innovators and enthusiasts gather on the sun-splashed banks of the Spree river in Berlin, Germany each summer for Tech Open Air (TOA), a conference that aims to "future-proof" your business and your life.
The largest European tech event on our list, TOA, is hosted in a sprawling, former East German radio station near the river bank called Funkhaus Berlin. The conference attracts both startups and large companies to its 4,000 square meter exhibition center, including the likes of Google for Startups, SAP, Philip Morris GMBH and the European Commission.
"As Berlin itself as a city is so cool, relaxed, art and culture-friendly … this spilled over to the general atmosphere of the conference too," Mele Pesti, founder of Edukontor, a co-working space in Kuressaare, Estonia told 150sec. "Many satellite events were at cool venues all over the city, so people really had to breathe in Berlin if participating actively at TOA."
But how can the organizers make such a massive event more conducive to establishing close relationships?
One avenue they're trying out is hawking a curated experience called Open Circle. The exclusive package is a four-day planned itinerary complete with exclusive dinners, private art tours, chats and exclusive music performances. Marketing for Open Circle is based on its exclusivity, and interested guests must apply to be accepted — bringing into question how "open" this circle truly is.
For the other 20,000 attendees, TOA, like many other conferences, attempts to facilitate connections via its conference app, which Pesti laments didn't live up to expectations. "[The TOA app] did not feel ideal for match-making for networking purposes," said Pesti. "The questions did not give an understanding of the motives of other participants and the app suggested simply meet-ups for people with similar profiles. But often those are not the relations useful for the two sides."
With more networking events for startups than ever before, European tech founders should establish their companies' networking goals and research options available to best reach them. 150sec hopes that for founders that wish to create fun memories and lasting relationships, these tech events will do the trick.
(Editor's note: Publicize is part of the ESPACIO media incubator which also owns 150sec.)