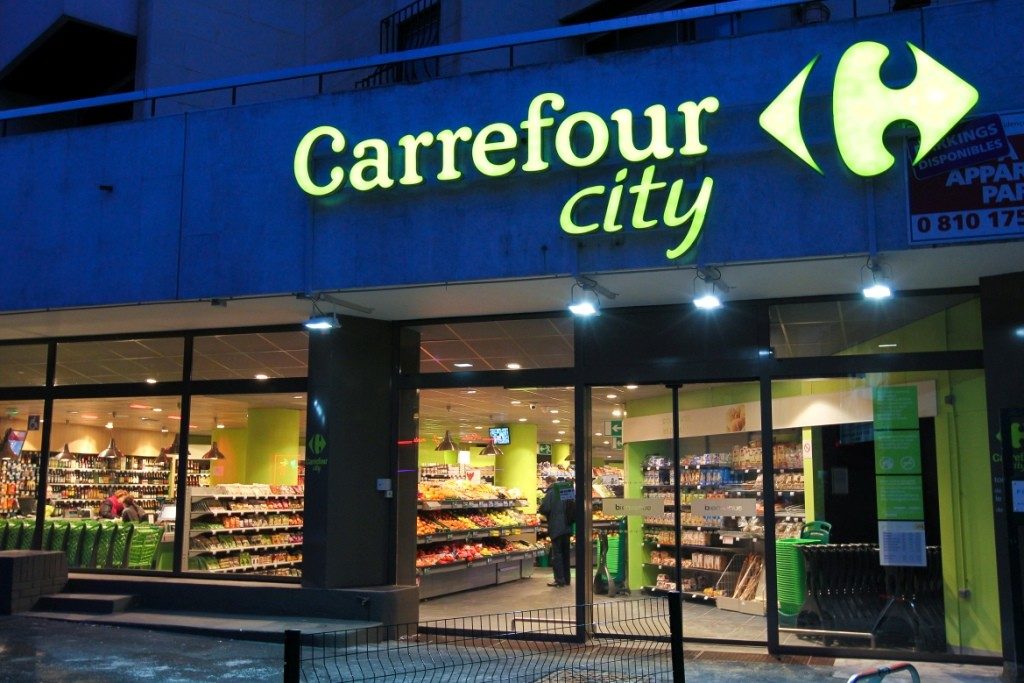 Cryptocurrency & Blockchain Technology
---
Blockchain may be approaching maturity in food traceability, as French multinational retailer Carrefour announced extending its use of the technology.
The retail giant issued a press release from its Boulogne-Billancourt headquarters on Friday in announcing to extend the use of blockchain for traceability of milk products. On twitter, the company followed up with a tweet on Monday stating:
"To ensure our complete product traceability, we are continuing with the roll-out of #blockchain by applying it to our Carrefour Quality Line fresh micro-filtered full-fat milk."
The project will be implemented later this month and forms part of a broader strategy to provide for complete food traceability. The supermarket chain became the first retailer to apply the technology to food traceability in March 2018. At that time, it applied blockchain to the tracking of its Carrefour Quality Line Auvergne chicken.
The longer-term objective for the company is to expand food traceability to all products within its 'Quality Line' range by 2022. This will include in excess of one hundred products.
In this instance, the retailer is collaborating with Gillot Diaries. With its cooperation Carrefour are assured of the origin of milk and that no GMO based feeds are used in the production process.
That implementation was based on Hyperledger Fabric, a private permissioned blockchain framework hosted by The Linux Foundation. IBM was a significant contributor to the Hyperledger Fabric framework. Given IBM's extensive knowledge of that specific technology that it was an IBM food tracking solution that was used in this instance.
Carrefour had joined IBM's blockchain based food tracking network, Food Trust, in October 2018. Other major producers and retailers have joined including Nestle SA, Walmart and Unilever.
Taking off from Spain to South Korea
Carrefour operates on an international basis with a presence in over 30 countries distributed across Europe, the Americas, Africa and Asia. When it comes to blockchain, the retail giant implemented a similar traceability project in Spain.
Its Spanish business is now following a similar strategy to that of its French parent. Carrefour S.A. (Spain) intend to roll out blockchain based traceability on all products in its 'Calidad y Origen' product line.
The most recent application involves tracking through the blockchain of chicken sourced from the Spanish region of Galicia. As part of the implementation, each stage in the process is marked on the Hyperledger network with a QR code which records milestones such as the date of birth of the chicken, type of nutrition, packaging date and other relevant information.
Furthermore, ample examples can be found from other companies around the world. For example, last November, a pilot project was announced in South Korea between its Ministry of Science and ICT and the Ministry of Agriculture, Food and Rural Affairs to provide blockchain traceability of beef. The scheme was limited to one particular region of the country, with the intention of rolling it out nationwide in the event that the pilot proves successful.
Approaching a "proven tech" for traceability
Whilst the technology is emerging, it seems that product and food traceability will be one of its most logical implementations. Those who are less enthusiastic about blockchain question whether the technology is really suited for use in every industry. However, whilst there are trials of the technology ongoing in terms of product traceability, the technology is now starting to be utilised on a regular day to day basis.
In food supply chains, it brings certainty for all the stakeholders in the process from the material inputs, the growing process, the various stages of the production process, distribution and storage, retail – right through to the point of purchase. With that clarity, the risk is reduced for all participants, with greater comfort for the end user also. Existing technologies have been unable to solve such issues, including fraud and counterfeiting.
The jury may be out on the validity of blockchain technology in other industries and for other use cases. However, when it comes to food and product traceability, blockchain is here to stay.