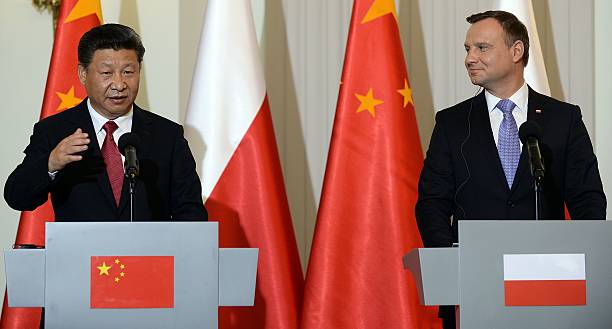 ---
Poland holds a strategic position geographically when it comes to an enormous project that China is intent on realizing. The Belt and Road Initiative is a development strategy adopted by the Chinese government. It involves infrastructure development when it comes to countries in Europe, Asia and Africa. At a symbolic level, China's resurrection of 'The Silk Road' is meant to evoke images of a nation reinstated as a centre of power and prosperity.
There are two main strands to the project. "Road" refers to the sea route which incorporates a corridor along the shoreline of the Chinese coast via Vietnam and Malaysia, the east coasts of India, Somalia and Eritrea, through the Red Sea and the Suez Canal into Europe.
Belt refers to the overland route. That incorporates a route from Xi'an in northwest China through the central Asian countries of Kazakhstan, Uzbekistan and Turkmenistan. It will continue on through Iran and Turkey. As it swings into Europe, it cuts through Bulgaria, Romania, Ukraine and Poland. It very much mirrors the historical 'Silk Road' which allowed the exchange of goods and ideas between Asia and Europe. It provided a trading route between the Roman Empire and the Han Dynasty towards the end of the first century B.C.
Poland is very much in a strategic position when it comes to China's 'Belt And Road' initiative. The country is very strong in terms of logistics. 25% of road transport in Europe is operated by Polish companies. It's probably not surprising then that Chinese e-commerce behemoth, Alibaba, chose Poland as their logistic hub.
There have already been some initiatives as a precursor to the main project. China – Europe direct rail services were introduced in 2011. 6,000 freight trains have run between the two points. Approximately 35 Chinese cities now operate freight trains to Europe. In January a new freight train service opened between Guanxi in China and Malaszewicze in Poland.
The route may be more lucrative for European countries such as Poland as it is 11,000 KM in length yet it takes significantly less time than the Ocean route that is planned in the Belt and Road initiative. Via train, freight takes 18 to 20 days, 12 less than freight routed via the Ocean route. Ocean shipping is also much riskier.
Notwithstanding that, not everyone agrees that overland freight train routes will be viable. There is an argument that such routes will remain congested. Furthermore, there's a difference in track gauge between central European countries and former Soviet nations – which creates a logistical issue with trains having to be swapped out, costing time, resources and expense.
However, there is potential for improvement in the nature of the infrastructure such that it is a viable option. Furthermore, governments are likely to subsidize train freight on the route to make it work.
The project is a win/win as China has the resources and capital to commit to building what's needed whilst many of the countries along the route are in need of infrastructural investment. The Belt and Road project has the potential to accelerate economic growth in Central and Eastern Europe.
Polish politicians have been positive in expressing their views on the project. Last year, Polish President Andrzej Duda stated:
"The evolving debate concerning the Belt and Road initiative is proof that Poland appreciates the meaning of this project and is very interested in it.
There's also a view within Poland that the project could be beneficial for Polish regions. Grzegorz Czelej, Deputy Marshall of the Polish Senate and Chairman of the Polish-Chinese Parliamentary Group stated:
"We need to use the opportunities created at the central level and transfer them into the local, regional level."
Agri-food exports from Poland to China have grown considerably since 2014. It's expected that Belt and Road will result in an increase in such exports.
Not everyone foresees this as a positive development. In a speech at the Munich Security Conference earlier this year, the then German Foreign Minister Sigmar Gabriel articulated that he feels it's part of a plan to undermine the unity of the European Union whilst also an attempt to establish a comprehensive system in order to shape the World to meet Chinese interests.
Either way, there are likely to be major consequences for central European countries like Poland – as well as the greater region. It's certainly something worthy of more debate.
Global visions community, Horasis are setting out precisely that agenda. Their Horasis Asia meeting in Vietnam on November 25-26 will include a focus on the Belt and Road initiative as it pertains to Poland and central and eastern Europe generally. Jacques Tourel, Chairman, World Trade Centre Warsaw, Poland will be participating in a panel discussion on the subject.
Whilst there may be concerns about China's higher level strategic purpose in terms of this initiative, it will certainly involve significant investment and provide opportunities for central and eastern European countries, particularly Poland. A project of this scale is not going to be realized overnight. It's likely to take some time to implement. However, it's going to be interesting to see the effects this has on central and eastern Europe in terms of economic and infrastructural development.